We are thrilled to announce our marvellous new Melodeon Club. These classes will be delivered in partnership with Mel Biggs. Renowned over the world for her perceptive, patient and mindful manner in teaching groups and individuals, Mel is a leading light in the world of melodeon teaching. Flexibility in the way Mel offers her teaching doesn't even cover it! Online, via Skype, youtube, in person, at Festivals during the Summer, in the East and West of England monthly – there's nothing preventing anyone from learning with Mel Biggs Music.
Mel is a musician with Harlequin Morris and she makes up the third of Morai as well as working regularly on collaborative projects. You can find out more about Mel over on her website.
The Trust is looking forward to seeing many new faces at the monthly Club, alongside those who might have attended our Melodeons and More events in the past.
Booking is Essential. To secure your space please complete the booking form and return to us at info@eatmt.org.uk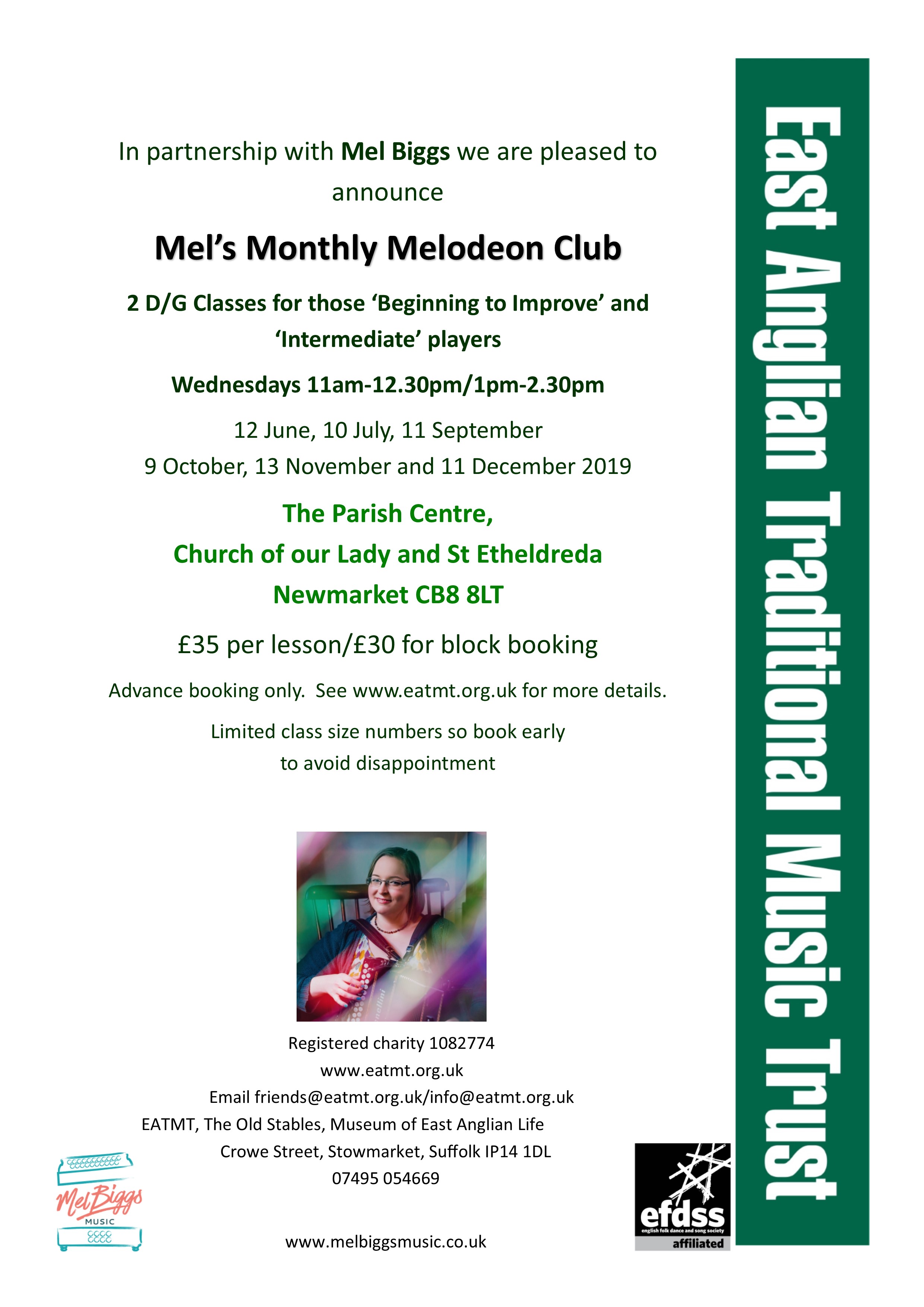 Lesson 1- 12th June
The first session was an extra long amalgamated affair which finished in a really insightful Q&A session. Working on Horse's Bransle, the group divided to work on melody, basic bass work, harmony and right hand chords which sounded absolutely fabulous by the end of the session. The Q&A raised questions on air button use, posture to avoid the need for physio and minor chords – all washed down with a cuppa and biscuits.
It's not too late to sign up for July's class on Wednesday 10th July! Come and join this lovely friendly group of very keen East Anglian Melodeon players.
"A great session that was enjoyed by all of us taking part. Even rank beginners like myself could end the workshop playing our part in the concluding run-through of Horse's Bransle, a lovely tune. Something for everyone, whatever their level, and well worth the trip to Newmarket. Many thanks, Mel and Alex!"

Tim N

"
"Great first class…lots to think about and practice – especially those right hand chords! Mel coped brilliantly on the day with the range of squeeze-box abilities – creating a friendly, relaxed and informal ambiance".

David M
"I really enjoyed our first session with Mel last week. It was hard work but really worth it, as I learned such a lot in just a few hours. I found the pace just right and Mel was so helpful in answering all my questions! "

Pat H
Lesson 2- 10th July
Class 2 in Newmarket with Mel Biggs Music. Mel split the group into two starting with players who are "Beginning to Improve". Working on Winster Processional, Mel introduced students to the foundation of the G scale in the left hand and right hand. She then looked at some left hand chord sequence exercises to build better familiarity in navigating the left hand 'map'. It's a "whole" approach to the instrument which seems to go down well with learners. The air button was discussed and Mel allowed learners to film her whilst playing both a very basic left hand accompaniment and a slightly more stylised version which takes them to the next stage of learning. The participants were asked to work on this tune with both hands over the Summer break.

The "Advancing" group then arrived, had a chat and a quick cup of tea and biscuit and then settled down to new technical challenge involving Jig Rhythms and alternative left hand accompaniments. Mel took the approach of getting them thinking about the bellows direction rather than which finger, which button. It was amazing to see that all learners found this was a new way to think about their playing and it influenced everyone's way of creating the jig accompaniment pattern in a much more musical way. Playing Mel's Brite Jig "up the dusty end" – Mel taught by ear in short chunks but music was provided (annotated with button numbers and directions) and again she allowed for a personal video to be captured to help with the homework set. Even to the experienced player, new techniques once again were introduced so that there was something for everyone.

A break for the Summer now and the next lesson is Wednesday 11th September for a new tune and a new technical challenge. You can join in at any stage of these lessons and have access to the material from the earlier missed ones. Contact EATMT if you'd like to join this jolly bunch of players.
Lesson 3 -11th September
For the class of those 'beginning to improve' Mel worked at looking at how left and right hands worked together. Using a new tune "The Willow Tree", creating gaps with the left hand was explored. Then the Winster Processional from the previous lesson was revisited with these new ideas and exercises with the air button were given. Discussion on the pressure of the thumb on the air button, the hand pressure – using back of hand and palm of hand and arm pressure and how this affects dynamics were all covered. The change in tones heard over the course of the lesson was very effective. You tube links and further exercises followed after this class via email.
For the Improving class, From Night 'til Morn was the tune worked on. The emphasis here was to make the melody fit in the with the left hand. Something many of us don't do. Well, that got everyone pulling faces! It really was a case of thinking outside of the box and to hear the left hand chords and harmonies singing out over the melody by the end of the lesson was truly jaw dropping. Working this way made people think about row crossing in order not to lose a potentially beautiful harmony. Mel then dared people to miss out notes on the left hand. New quirky notes were found and the satisfaction on the faces of the students was evident for all to see.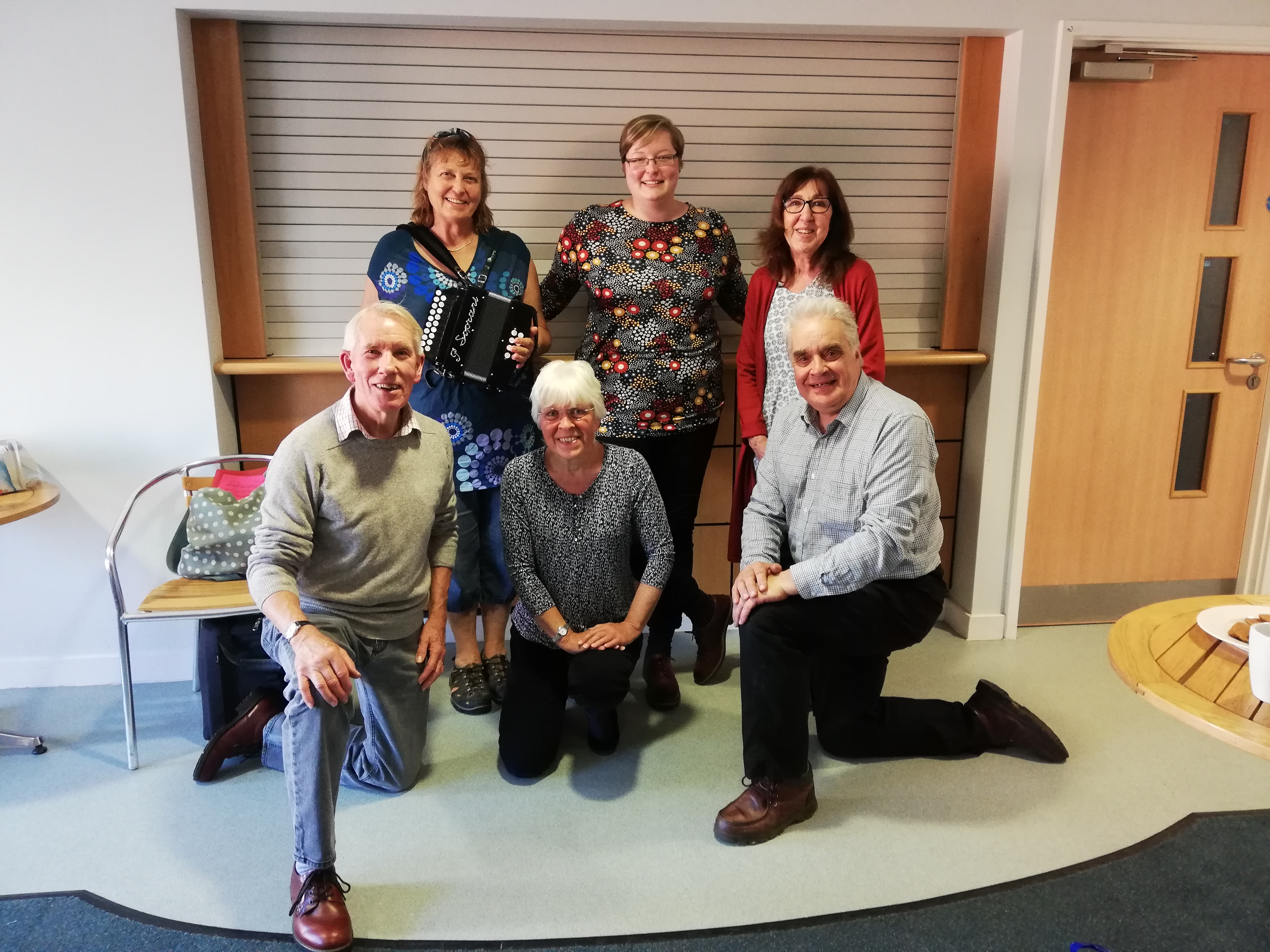 Improvers with Mel Biggs