Harry Green
by John Howson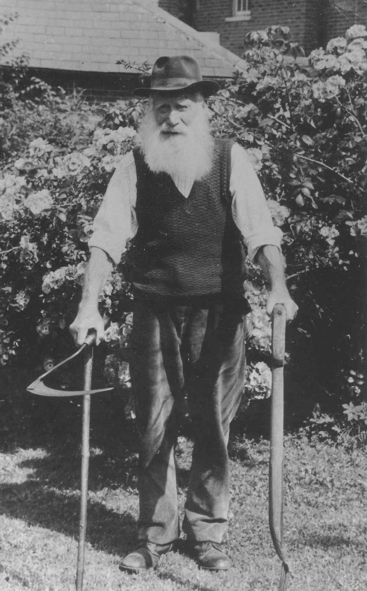 This article in our series of portraits of singers and musicians from East Anglia features singer Harry Green, who died in 1969, having lived in the same cottage in the village of Tilty, near Thaxted in north-west Essex, for 93 years. In the 1960s, folksong collector Fred Hamer visited Harry on a number of occasions and to recorded songs from him. Five of these were published in Hamer's book 'Green Groves' (EFDSS, 1973) but it wasn't until the late 1990s that the recordings were published, on a cassette on the Veteran label. This has been unavailable for a few years, but now all the songs from that cassette, plus previously unpublished recordings of other traditional singers from Essex are due to be released on a new CD: 'The Fox and the Hare' on Veteran in late 2010. Here are the memories of Harry's daughter, Chrissie Andrews, interviewed by EATMT co-founder John Howson in 1987.
"Well, he used to have a sing-song with his old friends in the pubs. Most of the singing went on in the Rising Sun (in Duton Hill) because his old friends lived there – 'Hunch' Ledgerton and George Perry. There used to be accordion players and somebody would get up and stepdance. Then there was 'Buster' Brown he used to sing lots of songs. When we went on coach outings and that sort of thing he'd sing. Nobody else in our family used to sing. Father was the only one but I can't remember him singing in the house, not for any length of time. He might just sing the verse of a song or something like that. Not like he did when Fred Hamer came along and he'd sing a whole song. He came in with his tape recorder and Mrs Hamer used to sit on the settee and father always sat on a chair. Oh, Father used to get a bit tired because they used to come late-ish in the evening. Well, being well over ninety, he used to say, "If they don't soon come, I'm going to bed". He'd say to him, "Well you've had so many songs this time," and then Fred used to show me the copies and ask me was it right. Of course, it was only as far as I could remember because I was never in the pub when father used to sing these old songs. One of them The Highwayman and The Merchant's Daughter, he asked him where he first heard that and he said Bill Patient used to sing it in the Rising Sun. You know, there was more singing going on in the pub in those days than anywhere else."
Apparently, Harry would limit Fred Hamer to five songs each visit, perhaps rationing them out so that Hamer would return. Chrissie remembered her father learning Down in the Fields from the radio, but also said he could remember things from when he was a little boy. Harry told Fred Hamer that The Nutting Girl came from 'Singing Jimmy' around the turn of the 20th century. Harry was obviously quite a character, and you can almost see the sparkle in his eye when he recites The Pear Tree or the epilogue to Down in the Fields and Ladies Won't you Marry. Another of his favourites was Oh Joe the Boat is Going Over. In recent years, the Rising Sun (now closed) in Duton Hill once again provided a welcome to singers and musicians, and that very song has been heard there, sung by Simon Ritchie and assorted instrumentalists, on more than one occasion!