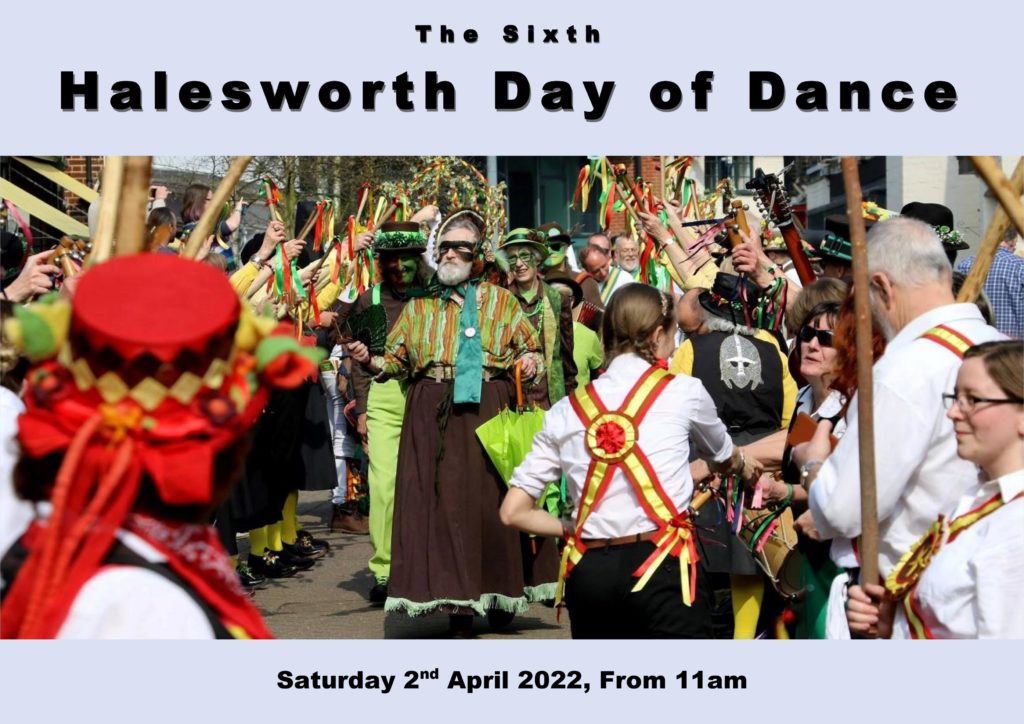 Halesworth Day of Dance – by Linda Watterson
The spring sun shone over Halesworth on Saturday morning 2nd April as around 500 dancers and musicians converged in the Market Place for the 6th Halesworth Day of Dance. Colourfully clad teams were greeted by Chair of Council Rosemary Lewis before dancing together en masse in a joyful eruption of sound, movement, and colour. The hosts, Oxblood Molly, then led a procession around the town which culminated in a spectacular Guard of Honour up through the Thoroughfare.
Music and dancing were everywhere throughout the day. Onlookers were treated to fabulous performances of Morris and Molly dancing by teams from all over East Anglia.  An exotic air was added with dancing by the local Eastern Belly Dancing group, whilst a 40 strong team of majorettes from Eitorf (Halesworth's German Twin town) added their own magic to the proceedings. There was also Rapper Dancing and Mummers Plays. Ukulele players also had a chance to 'strut their stuff' with a mass Busking session in the Market Square led by RumStrum and Ukulizzie.
Dancing was seen at various locations including outside The White Swan, The White Hart, The Angel and Thoroughfare Bridge. 
An uplifting sense of happiness pervaded the town. One onlooker commented "This is so lovely! It does your spirit good. I've been smiling all day!".
The day is rapidly becoming an important event in the Halesworth calendar and this year raised over £1300 for Motor Neurone Disease Association. The next Halesworth Day of Dance will take place on 1st April 2023.
The day was rounded off with a ceilidh at the Holton Village Hall , with music provided by the Harbour Lights Band.
For a timetable of the day see below:
Oxblood Molly was started in Halesworth by a group of dancers who were interested in the revival of this Fenland traditional style. This year's event was dedicated to a founder member, Bernice 'Bunny' Nash, who died  last year of Motor Neurone disease and the event was made possible with the support of Halesworth Town Council and Alex Davey of Goldsmiths, Halewsorth.
Molly Dancing is a form of English Morris dance traditionally done during the winter by out of work plough boys in the 19th century. They would tour around the village landowners offering to dance for money… and plough furrows in anyone's lawn who refused! To avoid recognition, they would conceal their identities by blacking their faces and dressing in garments adorned with scarves and other fripperies. Modern sides retain the colourful outfits but now comprise anyone who simply wants to enjoy themselves dancing this tradition or playing in the band.
More details are available from oxbloodmolly@gmail.com and for photos of the days see HERE