Gordon Woods
by John Howson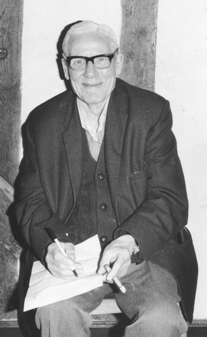 This article in our series of portraits of singers and musicians from East Anglia features the little known singer Gordon Woods, from central Suffolk and is written by EATMT co-founder John Howson. Gordon was born in 1911 in Stonham, but lived in Framsden for most of his life until he died in the 1990s.
I remember well how I first heard about Gordon. I was on the telephone to the my old friend Font Whatling, the well known melodeon player from Worlingworth , and we were talking about the old singers and musicians that used to be around in the area. Then Font said "You do know old Gordon Woods down in Framsden, don't you? You know, the one who knows all the songs." In fact I didn't, but followed up the lead and soon found myself in the company of a fine singer who certainly had an interesting repertoire with songs ranging from the traditional: The Ups and Downs and The Little Ball of Yarn, to entertaining pieces like Every Morning and the soldiers' parody The Tattoed Lady.
During the 1980s and 90s, we ran a monthly traditional session known as Old Hat Music
Nights in various pubs not far from Gordon, including the Debenham Red Lion, where he
came along on several occasions, to sing to an appreciative audience of locals and
enthusiasts from further afield.
Gordon told me: "I used to go out with Alf Peachey (a renowned melodeon player from
Ashfield) a lot. We'd go around several pubs, like Ashfield Swan. We couldn't go far
'cause we only had bicycles … Ashfield Swan was full of life. I used to sing here in the
Greyhound (now renamed the Dobermann) regularly, we used to get a lot from Ipswich
come. I would sing in there and so would old Sam Friend. He used to sing some good
ones, some of the proper old horseman's songs. Font used to come and play there for
many years and he'd bring Billy List (a well-regarded singer from Saxtead) with him."
About his father Alfred, Gordon said: "I can remember him singing, but I didn't learn
any songs from him; he used to sing such complicated ones. There was one about
the babies' names. He used to sing in Framsden Greyhound before I was old enough
to drink."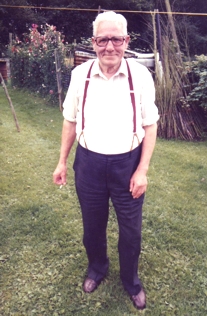 Gordon obviously heard many different singers over the years, and it is from them that
he gathered his repertoire of songs. When he was asked where a particular song came
from, he would answer "I don't know – I just picked them up around the pubs." In 1992
I wrote, in Songs Sung in Suffolk "And long may that tradition continue!" After Gordon's
death, the late Hubert Freeman (Personal Portrait No. 17) used to sing several of
Gordon's songs, and since he died in 2007, it's great to be able to say that a number of
Gordon's songs are still heard regularly in the singing pubs of Suffolk, such as The
Wireless Song, The Virgin of Nineteen and The Baby Boy, which have been taken up
by a new generation of singers like Simon Ritchie and Mike Crisp.
Photos by John Howson, showing Gordon in Stradbroke Queen's Head (at an Old Hat Music Night) and in his garden at Framsden.