Who would have thought one band would trigger so many responses! Thanks to readers of the Trust's Spring newsletter, Mardles.org and the new Uncle Walter's Folk News (UWFN) we have been kept very busy with information. As a result, emails, recordings, letters and messages noted down from excited phone calls have been handed over to the man behind the idea for an article in the first place, Alan Helsdon. With so many contributions to an article, there are now little gaps which still need filling and so for now we bring you a "Preview" and over the Autumn months aim to complete this and for the icing on the cake, from Chris's second wife Karen, we have received several tape recordings of the band's various sessions at Chelmondiston and Cromer from the early 1970s which we hope, permission pending, we can turn into a CD.
At this point, thanks go to Karen Morley, Marilyn Allen, Peter Croft, Tony Hall, John Chandler, Bernard Duffield and David Nuttall for their contributions so far.
The East Suffolk Country Band Before 1971
There were three roots to the East Suffolk Country Band (ESCB) – one at Shipdham in Norfolk, one at Islington in London and one in East Suffolk itself.
Shipdham because the LP English Country Music (ECM) was recorded there by Bill Leader in August 1962; the sessions being organised by Mervyn Plunkett, and 99 copies of the album being issued in 1965 by Reg Hall and Bob Davenport (See this Mainly Norfolk article for more information on this LP).
Islington because the Folk Club at the Fighting Cocks, Kingston from 1963 was followed by a Club run by Rod and Danny Stradling at the Islington Fox in 1964 – 1968 and at the KIng's Head from 1968. The ESCB are known to have played there in 1965 and 1969 (mustrad.org Article 327 – Rod Stradling)
East Suffolk because Chris Morley was living in Little Bealings (between Ipswich and Woodbridge) after his marriage to Jenny Erskine in 1966 and knew of the local, older players and singers in that part of the County.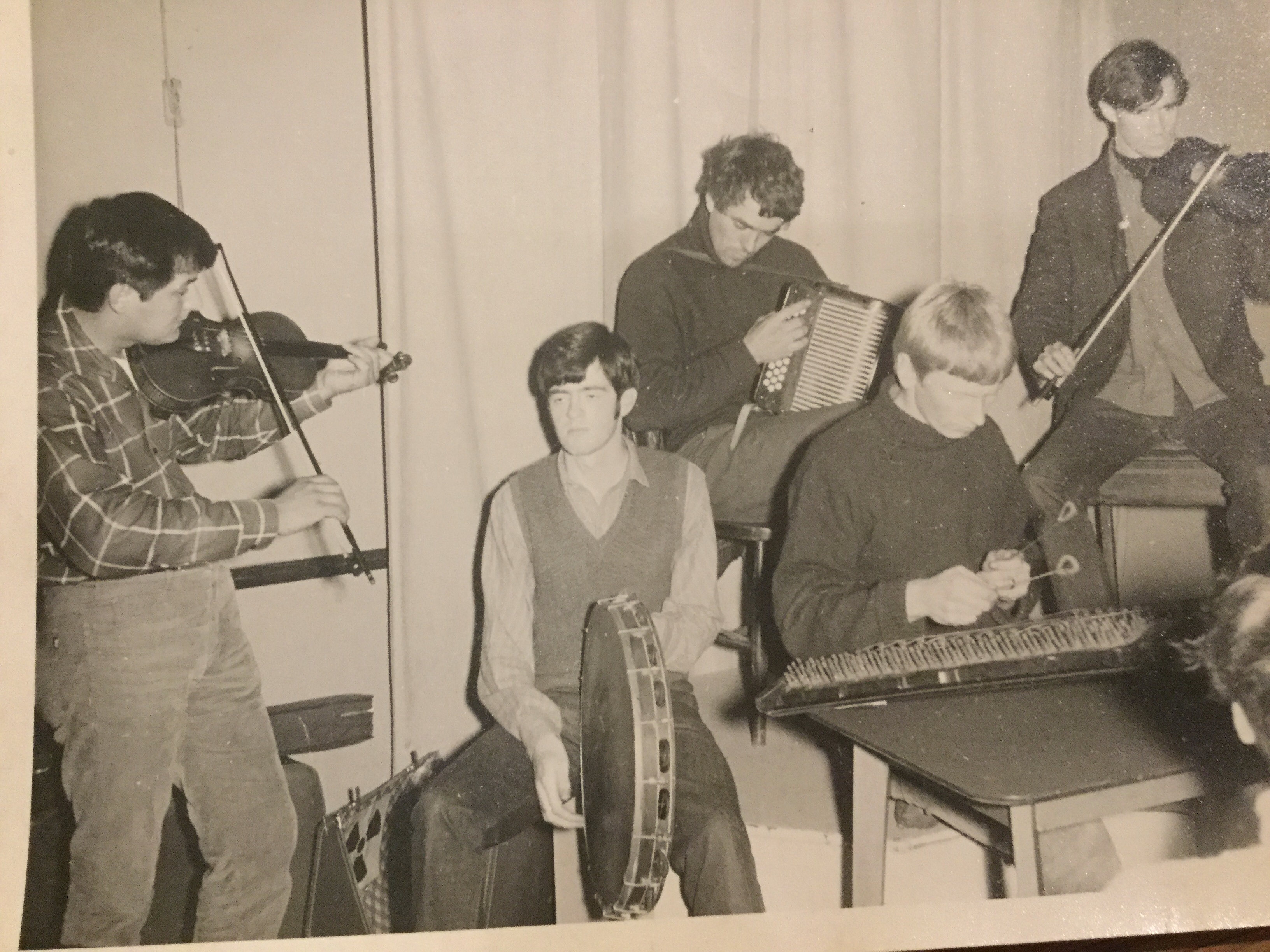 The original members, some of whom are in the photo on the front of the upcoming CD sleeve, were Chris Morley (fiddle, melodeon), Tony Rose (banjo), John Chandler (fiddle), Jeremy Dyde (fiddle), Colin Hall (dulcimer) and Sean Halpenny (bodhran), though this line up was flexible and several people took part on an occasional basis. These included Trevor Sheridan (banjo), Tony Hall (melodeon), Annie Briggs and Johnny Moynihan (who were living in a caravan in Chris and Jenny's garden in Little Bealings), Bob Davenport, Rod and Danny Stradling. Chris was very keen to involve some of the older singers and players, so people like Oscar Woods, Bob Hart, Percy Webb and Bob Roberts took a full part in the evening when they were there.
The earliest booking known was at the Islington Fox in 1965 when Scan Tester was the guest.
After 1970
The band was joined in 1970 by Irish fiddler Tom 'Monty' Montgomery who came from Larne in Northern Ireland and was a retired Harwich River Pilot. He brought with him a repertoire of Irish tunes which became the staple of the band's playing, gradually ousting the more local melodies. Peter Croft started at about the same time playing melodeon so the nucleus became him, Chris Morley on banjo and fiddle, 'Monty' on fiddle, Chris Campbell on guitar, Sean Halpenny on percussion (bodhran, spoons, tambourine) – as on the back of the CD sleeve. Others continued to guest as before and a young Bernard Duffield on autoharp was invited to join in as an 'apprentice' by dulcimer player Colin.
Venues
The regular session for the band was at the Chelmondiston Foresters on a Friday evening. The CD being created for EATMT will include parts of 2 different sessions there. Other local venues remembered are the Blaxhall Ship, Little Bealings Admiral's Head, Snape Crown and Golden Key and the Saxmundham Railway. Further afield they played at Cromer's Bath Hotel and in London at the Islington Fox and King's Head.
Chris and Jenny ran the Ipswich Song Club at the Suffolk Punch for many years and the ESCB was the resident band there. Guests were often booked for the evening after they had appeared at the Islington clubs and included Ewan MacColl, Peggy Seeger, Bob Davenport, Martin Carthy, Annie Briggs, Johnny Moynihan and even Ravi Shankar who was in London for a concert with Yehudi Menuhin!
Original member John Chandler recalls:
'Chris gave us the task of emulating Walter's LP and that was the start of the band's unique sound which I believe was copied by many which is a tribute to Chris our unsung hero'.
Tony Hall writes:
'Chris never received the recognition he deserved . . . for his contribution to trad. music in Suffolk. He, on our band 'gigs', also encouraged lots of old trad. singers to do their thing: people like Percy Webb, Oscar Woods on squeeze box, etc. This was all done in a natural, joyful way '.
As mentioned, the full article is still being compiled and will appear on the EATMT website in the 'Profiles' section when completed. If you have any memories, photos or even recordings of the band please contact us at info@eatmt.org.uk. We can't have too much material!
A CD of the band at Cromer (pre 1971) and Chelmondiston (approx 1973) we hope will be available in the autumn from the 'Shop' on the EATMT website.