As promised, we bring you a fuller article on the East Suffolk Country Band with the additional input from band member Sean Halpenny. Alan Helsdon has continued to pull together information we have accumulated and a limited number of CDs have been produced "One Name, Two Bands – the East Suffolk Country Band" with thanks to Quanting Publications, Karen Morley for the recordings and of course the musicians. More details on how you can purchase this is towards the end of the article.
Introduction
There were three roots to the East Suffolk Country Band (ESCB) – one at Shipdham in Norfolk, one at Islington in London and one in East Suffolk itself.
Shipdham because the LP English Country Music was recorded there by Bill Leeder in August 1962; the sessions being organised by Mervyn Plunkett, and 99 copies of the album being issued in 1965 by Reg Hall and Bob Davenport (see this Mainly Norfolk article for more information on this LP).
Islington because it was at the Fox Folk Club run by Reg Hall and Bob Davenport (1964-1968) where the Band played (also in 1965). In addition, after running the Folk Club at the Fighting Cocks, Kingston from 1963-1968, Rod and Danny Stradling were invited to help run a new folk club at the King's Head from 1968 after the Fox closed earlier that year. ESCB played at the King's Head on April 30th 1969. John Chandler mentions the 'Tappers' playing at these venues and being a possible influence on Chris when forming the ESCB (mustrad.org Article 327 – Rod Stradling).
East Suffolk because Chris Morley was living in Little Bealings (between Ipswich and Woodbridge) after his marriage to Jenny Erskine in 1966 and knew of the local, older players and singers in that part of the County.
There were also two flowerings, the first line-up imitating the sound and repertoire of the Bulwers et al on English Country Music and the second, post 1970 personnel with a repertoire largely of Irish tunes introduced by Tom Montgomery. These two phases are obvious from the recordings at Cromer and Chelmondiston on the CD. There was another phase when Chris moved to Norwich in 1973 and the Orwell String Band was formed largely from musicians from the ESCB.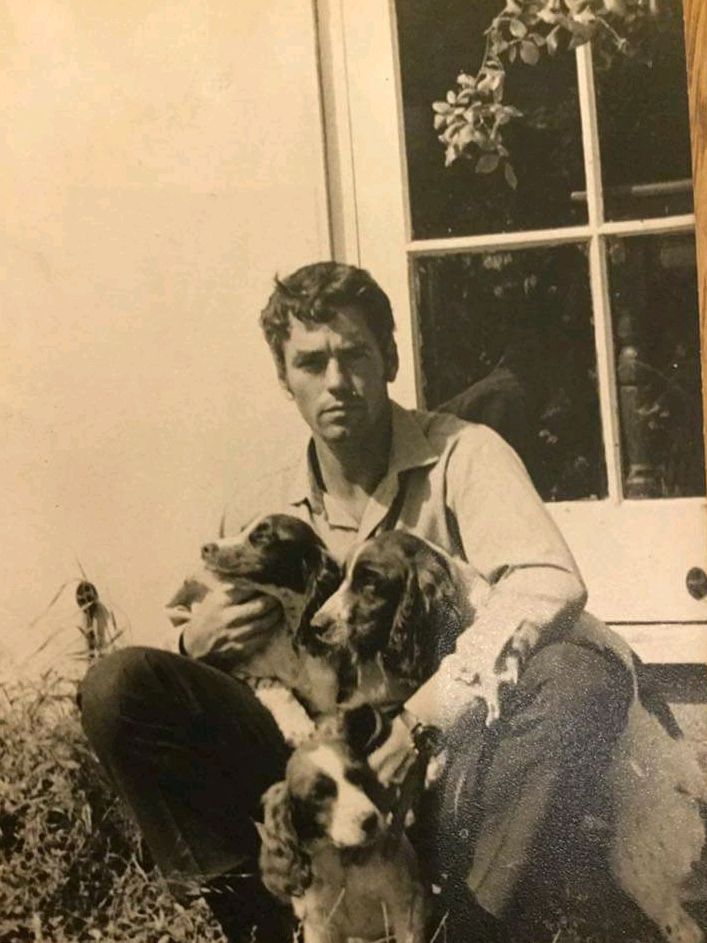 The Beginnings
Chris [registered as John Christopher Morley] was born on March 4th 1941 in the Dartford District of London.
Karen Morley: '[As a chef] Chris worked at many places such as the Royal Festival Hall where he watched Nureyev and also Lottie Lenya. He worked at the Brighton Grand Hotel and also Turnberry Hotel up in Scotland. He also went to Jersey and worked at the Jersey Wildlife Trust (Gerald Durrell's zoo) and that's when he slept above the lion cage. Chris had also said that when he was 17 he worked at the Gyre and Gimble Coffee House also known as the 'Two Gs'. He also worked in other coffee shops and I'm not sure which one, but Quentin Crisp was a regular and always called Chris 'Mr Morley'. The '2Gs' is where he met Davy Graham, Long John Baldry etc. He also played in a skiffle group called the Hard Travellers along with Woody Smith (Crispian St Peters) and I know that they played in Chislehurst Caves and the Skiffle Cellar in Soho. He was also a member of the Troubadour club, another important folk scene as was the Fox at Islington, again, a place of folk music. I know that he lived in a squat in Primrose Hill. Also lived above a shop in Goodge Street. He worked as chef in Mousehole, Cornwall, at St Ives and also Wasdale Head hotel. He was a life model at Leeds Art College and worked rowing tourists to the Isle of Eigg. After he met Jenny they lived on a Wherry called the Dragon at Pin Mill then Lake Lothing. They went on to live at Little Bealings of course. He had many boats as well'.
Mike Sparkes, Archivist with the Norfolk Wherry Trust: 'Certainly I have heard of a wherry on the banks of the Orwell. Many years ago I was invited to sail from the mouth of the Orwell to Ipswich . . . and as we passed Pin Mill . . . pointed out to me where a wherry once had been set on the bank as a house-boat'.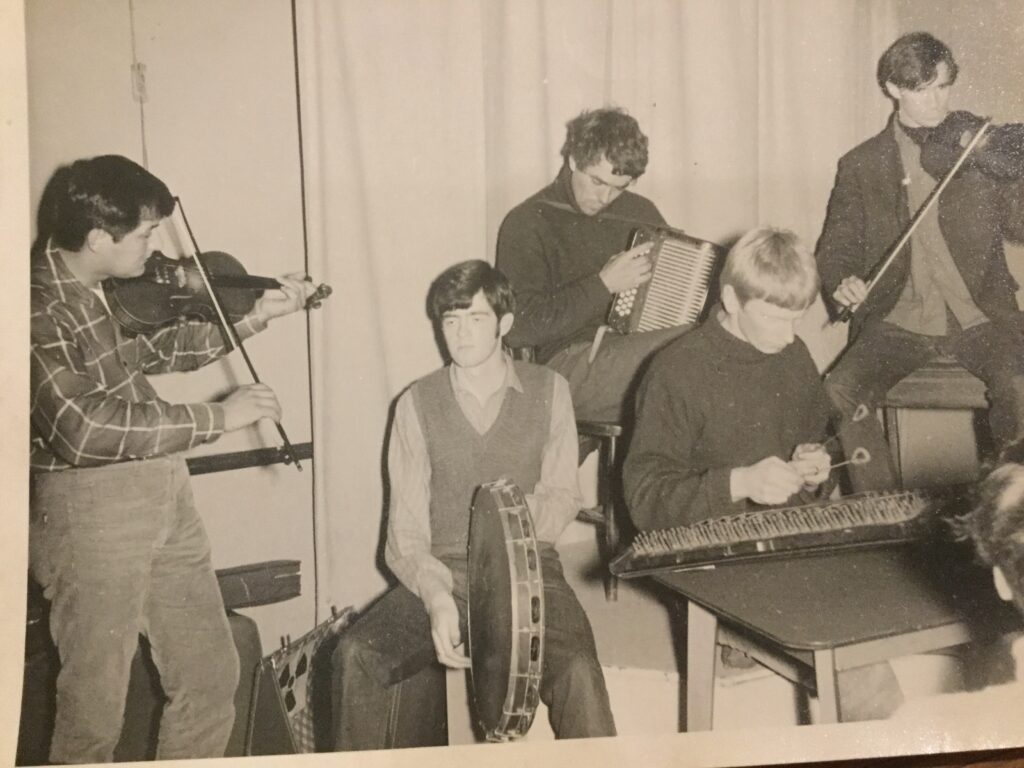 John Chandler: 'Now turning to the start of Chris's ambition of having a band, it all stems from Reg Hall's discovery of Walter and Daisy Bulwer and making an LP of country music with them. Probably, the Tappers in Islington was also an influence. Chris had a hammer dulcimer which he gave to Colin to learn as he liked the dulcimer sound that featured on Walter's LP. A good move as I think at the time it was the only dulcimer on the folk revival scene.
Chris by then had the founding members of his band and Tony Rose came up with the name, The East Suffolk Country Band. Later we were just known as The Band.
Chris was the band leader on D/G/A 3 row melodeon. Colin Hall played hammer dulcimer, Jeremy Dyde and I were on fiddles, Sean Halpenny on spoons and tin whistle, and there was an occasional appearance of Tony Rose on banjo. It is worth noting that Sean later became an excellent bodhran player.
Chris then gave us the task of emulating Walter's LP and that was the start of the band's unique sound which I believe was copied by many, which is a tribute to Chris our unsung hero. Chris was the driving force to make it all happen. Looking back, I doubt that the folk revival would have taken off in Suffolk in such a big way without his drive and influence'.
Photos 3a & b: Front cover and rear cover of the 1965 Country Music LP recorded by Bill Leeder in 1962 and issued in 1965 by Reg Hall & Bob Davenport.
Rod Stradling: [The LP] 'proved a catalyst for a very small number of people in the late-sixties and early-seventies, whose playing and recordings then proved the model for the rest of the of the late-seventies and eighties. I remember Chris Morley's East Suffolk Band receiving a warm reception at The Fox in 1965.
Regulars [at the King's Head Islington from 1968] were: Tony Hall, Dave & Peta Webb, John Wright, Tony Engles, Mel Dean, Terry Vosper, Ken Hamer, Oliver Mulligan, East Suffolk Country Band – particularly Chris Morley'.
John Chandler: 'This line up was flexible and several people took part on an occasional basis. These included Trevor Sheridan (banjo), Tony Hall (melodeon), Annie Briggs and Johnny Moynihan (who were living in a caravan in Chris and Jenny's garden in Little Bealings), Bob Davenport, Rod and Danny Straddling. Chris was very keen to involve some of the older singers and players, so people like Oscar Woods, Bob Hart, Percy Webb, Bob Roberts took a full part in the evening. The earliest booking known was at Islington Fox in 1965 when Scan Tester was the guest'.
Chris and Jenny ran the Ipswich Folk Club at the Suffolk Punch for many years and the ESCB was the resident band there. Guests were often booked there for the evening after they had appeared at the Islington clubs and included Ewan MacColl, Peggy Seeger, Bob Davenport, Martin Carthy, Annie Briggs, Johnny Moynihan and even Ravi Shankar who was in London for a concert with Yehudi Menuhin!
Sean Halpenny: Sean was born in Dundalk but went to school in Manchester. 'I arrived in Ipswich in late summer 1965 with my family. I'd been at Reading College and I was part of the folk scene there. Within 2 weeks of me arriving I found the Ipswich Folk Club. I wasn't a drummer, I was singing, a floor singer, plus I played a bit of accordion and mouth-organ. I didn't go to Islington in 1965 but I remember seeing them in photographs because they were at some recording of Seamus Ennis, the Irish piper, and on the sleeve of the album you'll see Chris there (below).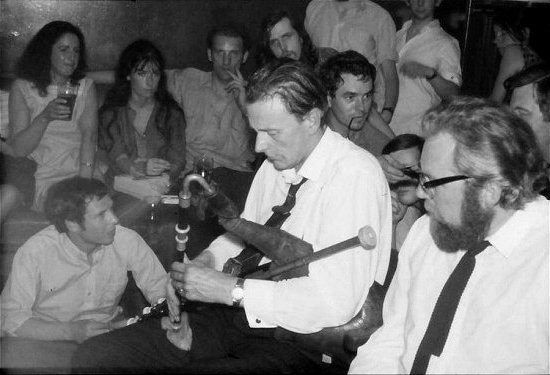 Rod Stradling used to come to Ipswich Folk Club and guests from the Islington Club on the Thursday would come to Ipswich on a Friday . . . I've got a number of tickets – the Waterson Family which was 5/-. the McPeak Family from Belfast, Dominic Behan, Ravi Shankar – that was 7/6 on June 14th 1966. Also there was Ewan MacColl and Peggy Seeger, . . . The Young Tradition.
The Folk Club itself had an average membership of 300 . . . there were a hell of a lot of people who were nurses or with the RAF, as well as visitors'.
John Chandler: 'My first memory of Chris is going to the Ipswich Folk Club at the Suffolk Punch on the Norwich Road in Ipswich. Chris was running the club and Jenny was at the door welcoming people and renting out traditional folk LP's. Sean [Halpenny] and his brother Mick, two fine Irish singers, were there. I sat in the audience with Colin [Hall] who introduced me to the club. Chris played 'Captain Pugwash' ('The Trumpet Hornpipe') on the melodeon accompanied by Jeremy [Dyde] on fiddle. I well remember Chris, larger than life, holding his mug of beer and singing songs like When Jones's Ale was New and Oh for my Grog. These are still fond memories of the early days. Actually, he was a much better singer than he gave himself credit for'.

Marilyn Allen: Marilyn recalls that it was in 1968 that she started following the band around. 'Chris ran an excellent folk club at The Suffolk Punch, Ipswich. His East Suffolk Country Band was the resident band and the guests were always top class. We had Ewan MacColl, Peggy Seeger, Bob Davenport, Martin Carthy, Annie Briggs, Johnny Moynihan and many more'.
Rod and Danny Stradling remember a gig at Snape Crown in 1969 and playing at Phoebe Smith's grand-daughter's wedding.
At some point the band went to Rochester with Bob Roberts. Nobody can remember much about it – I wonder why!
Marilyn Allen: 'I do remember the gig at Rochester. It was the only time I ever played with the band. They then discovered that I am an appalling musician and never pressed me to do it again. I think they were hoping for someone like Monty's daughter!'
There were nights too in the Bath Hotel on the promenade at Cromer, a haunt of the singing and stepping fishermen there including the Davies clan. One memorable night finished with a settee being taken out so the band could watch the sunrise from the beach!
Sean Halpenny again: 'Then there was the night the band was in Chris Morley's split window VW van coming back from Norwich on icy roads, and on a long downhill the van started shaking and then flipped – it went upside-down! Luckily we had the roof-rack on so it was like a sledge. We were all going, 'The Wall, the wall!', but there wasn't a wall. There was a gate and there was a pub and we came screeching to a halt outside the pub. The people in the pub came out and we came scrambling out, and we played a few tunes in there, just for the craic, and we stayed overnight and we put the van to rights and went on'.
Marilyn Allen: David [Nuttall], Sean [Halpenny] and I would go to Blaxhall Ship for the music when Wickets [Albert Richardson] was master of ceremonies. We were very lucky to witness the tradition. Oscar Woods was a great favourite of ours'.
Sean Halpenny recalls both bands (ESCB and Orwell String Band) played at Studio 4 Folk Club in Norwich run by Alex Atterson. All the floor singers from there came to Ipswich Folk Club in November 1968′.
After 1970
The band was joined in 1970 by Irish fiddler Tom 'Monty' Montgomery who came from Larne in Northern Ireland and was a retired Harwich River Pilot. He brought with him a repertoire of Irish tunes which became the staple of the band's playing, gradually ousting the more local melodies. Alasdair Cameron, who later played in bands with Tony Hall, told me that in 1956, as a 16 year-old Ganges boy from the Naval School at Shotley, he remembers going to the Butt and Oyster at Pin Mill and having to sit outside, but hearing Tom Montgomery play fiddle in a session there. So Monty was in East Anglia a while before he joined the band.
Peter Croft started at about the same time playing melodeon so the nucleus became him, Chris Morley on banjo and fiddle, 'Monty' on fiddle, Chris Campbell on guitar, Sean Halpenny on percussion (bodhran, spoons, tambourine) – as on the back of the CD sleeve.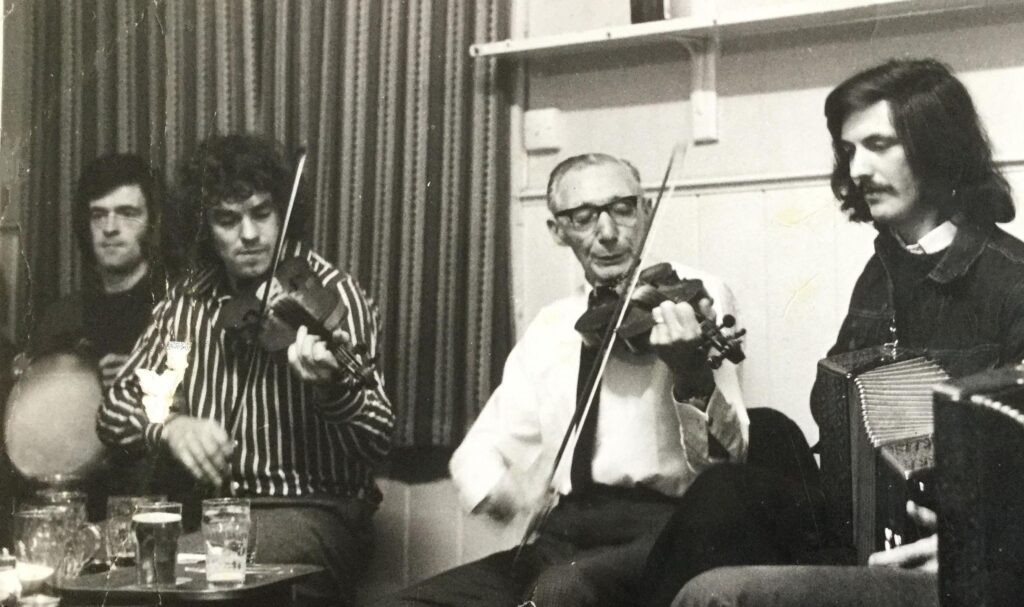 Marilyn Allen: 'Tom Montgomery, a fiddler from Larne, Northern Ireland joined the band later. He played a lot of Irish music. His daughter would play piano if we went for a tune at his house.
We used to go to The Snape Golden Key quite regularly on a Saturday night, piling into the back of Chris's VW, and sitting/laying on the floor. Names at Snape that come to mind are Fred and Billy List, Fred Pearce and blind Bessie. "The Bluebell Polka", and "Cock your Leg Up My Dear" (or whatever it's proper name was) were a couple of the tunes that I particularly remember people there including Bessie, dancing to. The locals always joined in rather than the band taking over. Chris was always good at encouraging locals to play and sing. We usually had a very good evening.
We went to several pubs in the Snape area. At the Blaxhall Ship I would enjoy talking to Cyril Poacher.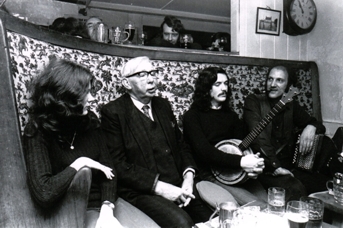 Peter Croft: 'The introduction of Tom Montgomery into the band led to a heavy Irish influence. I joined after Tom so the repertoire was already changing. I do remember Chris singing much more at sessions. Colin Hall, the dulcimer player also sang and they would have been English traditional songs.
The band material was a mixture of Irish tunes, tunes from Suffolk box players, traditional songs and music hall songs. We also played tunes like 'It's a Long Way to Tipperary', 'Redwing', 'Goodbye Dolly Gray', 'Daisy Daisy'. In other words, the sort of thing you would have heard in a country pub singsong at that time. The older customers in pubs would sing the 'pop' songs of their day (I mean from the 40s and even from the First World War), and these were in Chris's repertoire along with the more traditional songs which people like Bob Hart and Percy Webb sang. Sean's repertoire was also a mix of Irish traditional songs and music hall songs like 'The Spaniard that Blighted my Life!
We played at the Chelmondiston Foresters' Friday night sessions regularly . I remember being in a session with the melodeon player Oscar Woods and that was in the Saxmundham Railway. Oh, and then there was Terry Davey who was a great singer of shanties and sea-songs and also played the box. He now runs the Blaxhall Ship. And, of course, there was Tony Hall. Of those only Oscar Woods was of the generation before us.
Tony Hall: 'In the late '60s, I was a regular at the King's Head folk club in Islington, a wonderful trad club run by Rod and Danny Stradling. This club was a magnet for folkies, and it was there I met Chris and his then wife Jenny. They kindly invited me to stay at their cottage in the village of Bealings in Suffolk, and Chris allowed me to play (as an honorary member) in the East Suffolk Band, which he had formed. As a 'cherry on the top' Chris had living in a caravan in their garden two of my other folk heroes – Annie Briggs and Johnny Moynihan. So on my visits we (the band) played in several very unspoilt Suffolk pubs, such as The Blaxhall Ship and The Crown at Snape.
The band members were a lovely lot as follows:-
Tom 'Monty' Montgomery on fiddle, who was old (to me), a retired Harwich pilot and very Northern Irish, as was his wife Eady. I remember that Monty had hand-tremors and getting a whisky to his mouth unspilt was a feat. He told me that sailors, at the wheel for hours in a gale, rubbed snuff in their eyes to keep them open! My present band, The Von Krapp Family Band, still plays tunes of Monty's – such as 'The Wandering Minstrel' etc.
Next was Colin Hall (no relation) on hammer dulcimer and vocal chords. An amazing local character, with a great sense of humour and lusty voice, he'd belt out 'Butter and Cheese n All' among other songs. His then wife, June, was often at pub gigs.
On single row squeeze box was my all-time favourite squeezeboxer, Pete Croft (now in Edinburgh). Very good looking then, but remains an eternal batchelor.
Jeremy Dyde played an excellent fiddle and until recently lived (and played?) in Canada.
Irish Sean played the bodhran and guitar and was a great singer. I recall his 'Didn't He Ramble' – which I still sing myself, slowing it down to my usual 'dirge' speed!
Chris (like me) played a Hohner 2-row squeezebox and sang songs such as 'Row Bullies Row' and 'When the Old Dunn Cow Caught Fire' (and I just pratted about in the background).
VERY important – were the girlfriend/groupies, such as Marilyn, Jenny Foot, June etc. who kept us drunks in check.
Another important thing to mention is that Annie Briggs and Johnny Moynihan were living the 'gypsy 'life in a caravan in Chris and Jenny's garden and Annie would come out on band gigs, have an odd pint or two, or three and sing lovely songs in her lovely voice – especially 'Blackwaterside' (which I thought was local, but could be Irish) I think all of us lads were in love with Annie!
The band played at several country pubs in Suffolk, among them the Blaxhall Ship (now owned by Terry Davy, who was among our crowd in the 60s – and run by him now as a prime folk venue, keeping up the tradition). Also we played at the Crown and Golden Key at Snape (heard and met Bob Hart at the Crown, who sang 'Underneath her Apron'), The Worlingworth Swan and the Maybush at Waldringfield, on the banks of the Deben.
In those days, I recall that the men and the women sat in different areas (women, dark stout, blokes, bitter) and I remember both sexes step dancing. Also a bit later, Percy Webb entered the scene, singing his 'Perambulator' song. Speaking to Marilyn, one of our then groupies, she recalled that at some pubs, almighty brawls broke out among the locals. We were all carted around to the venues in Chris and Jenny's old, beaten-up van, sitting on foam in the back'.
Sean Halpenny: I remember a wedding gig when the band had to throw their instruments over the bar because there was a riot in the pub!
Marilyn Allen: Marilyn also remembered that riotous wedding gig. It wasn't at any of their regular pubs. 'One man was knocked flying into the band and ended up pinned by his ears between two of the musicians' chairs. An old boy had another one up against the door saying "I'll drop you where you stand!" Instruments went over the bar before any harm could come to them'.
Bernard Duffield: Bernard was invited to join in as a junior member in the 1970s by his friend Colin Hall, ESCB's dulcimer player. "I have good memories of the band…I was just getting going musically and played autoharp. Tony Hall was there with his melodeon. There was an old Irish man Tom Montgomery who was called Monty of course and he played fiddle. There were certainly at least two other melodeon players from Ipswich. If I played autoharp without picks, no one was aware if I played something wrong but it helped me enormously to develop. Later on I played with picks. Snape Crown and Bealings Admiral were two of the venues I remember.
As well as the regulars, the band, in both incarnations, has been joined on occasions by Tony Rose (banjo, guitar), Chris Campbell (guitar), Trevor Sheridan (banjo), Tony Hall (melodeon), Annie Briggs and Johnny Moynihan (songs), David Nuttall (concertina, auto-harp and dulcimer), Bob Davenport (songs), Terry Davey (songs, melodeon) to name but a few. Local musicians encouraged and welcomed by Chris included Bob Hart, Oscar Woods, Peter Greenacre and Bob Roberts.
Chris and Jenny moved to Norwich in 1973 and were both soon involved in the Folk Club there, at the Unthanks Arms, conveniently just round the corner from where they lived!
Tony Hall: 'Chris joined my loosely-knit band (now known as the Von Krapp Family) playing melodeon and eventually he formed Red Herrings, another cracking band, with Karen and the Ellis sisters (you can't seem to buy actual red herrings these days – very salty!)'.
A nice legacy of Chris' band is that even now, years later, my own band, The Von Krapp Family Band, still plays some of Chris' tunes, such as Monty's 'The Wandering Minstrel', 'Centenary March', 'Londonderry Hornpipe', 'Three McCusker polkas' to name a few'.
Possibly in 1977 but definitely in 1978 a bunch of Norwich Folk Club singers met a similar bunch from Ipswich at Snape Crown to celebrate Bob Hart's Birthday, a young-ish Alan Helsdon amongst them.
Live at Cromer & Chelmondiston "One Name, Two Bands" CD
Chris's widow, Karen very kindly sent Alan 2 cassettes of live performances of the East Suffolk Country Band after Chris's death in April 2020. In the summer of 2020 Alan transferred these recordings onto CD for EATMT. The only details on the cassettes are the venues – 1 session at the Cromer Bath Hotel in 1970 (although possibly earlier) and 2 sessions at Chelmondiston Foresters in 1973-4. Peter Croft kindly confirmed the tune names and the band members we have been in contact with during the year have been happy for the recordings to be shared.
Postscript: January 2022 – An email received by Alan Helsdon from Bernard Duffield in December 2021, has identified the following unknown tunes from the CD: Bernard writes: The unknown waltz [track 04] is the tune to the song Paddy West which I sing. Also the unknown American tune [track 11] is The Oh Go Hungry Hash House which I also sing. It's a great song from the Twenties".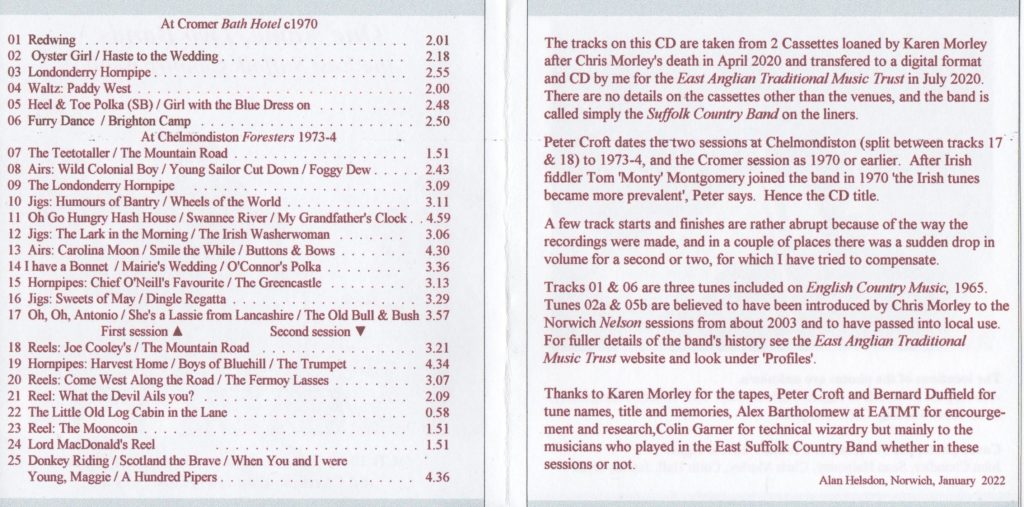 There are a limited number of CDs available to purchase at £5.00 from EATMT (please email info@eatmt.org.uk in the first instance to check availability) or from Alan's website HERE.
You can see Tony, Colin and John on this video clip filmed at Pin Mill. The film was made about Bob Roberts and his barge the Cambria but part of it includes daughter Jill's wedding reception in The Butt and Oyster. Watch HERE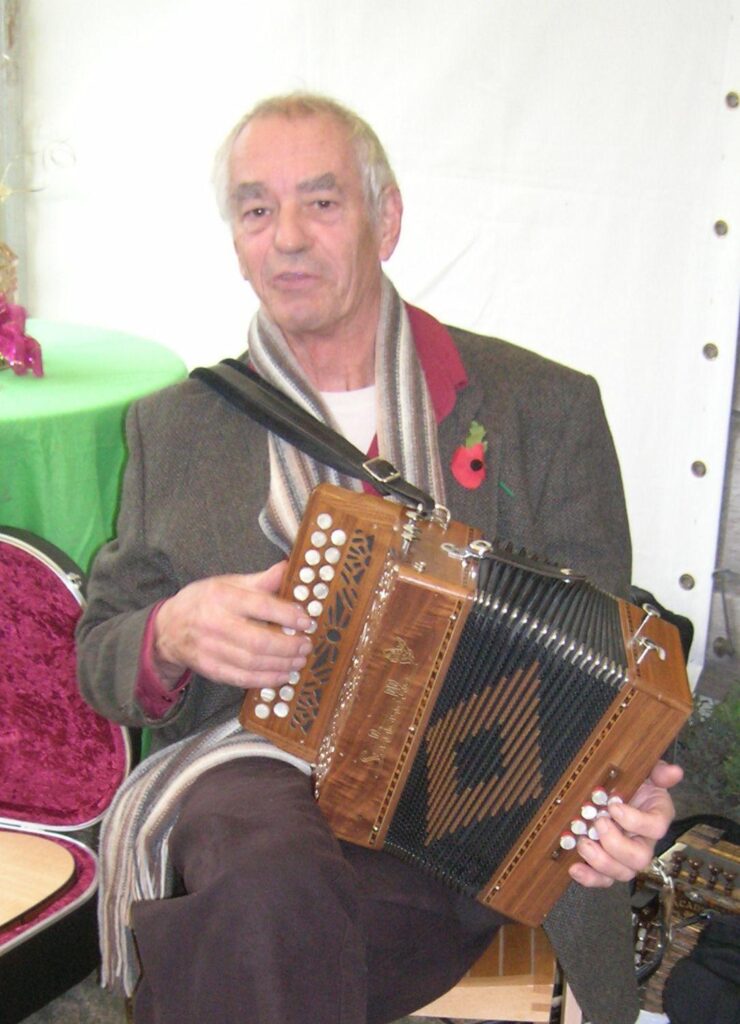 Postlude
John Chandler, an original member: 'Chris was the driving force to make it all happen. Looking back, I doubt that the folk revival would have taken off in Suffolk in such a big way without his drive and influence'.
Rod Stradling: 'Chris Morley, leader of the East Suffolk Country Band, who probably did more to give outsiders access to the traditional music and song of east Suffolk than any of the better-known, and later, activists there'.
Tony Hall: 'Chris never received the recognition he deserved . . . for his contribution to trad. music in Suffolk. He, on our band 'gigs', also encouraged lots of old trad. singers to do their thing: people like Percy Webb, Oscar Woods on squeeze box, etc. This was all done in a natural, joyful way'.
'Gluepack', in a response in 2014 to the You Tube clip (credit Felixstowe Folk Festival Archive/Bill Johnston) of Pete Croft, Chris Morley & Tony Hall at Felixstowe Folk Weekend 1982/3 [We believe that was actually 1986 – it can be dated due to one of the instruments used in this clip!]: 'I was lucky enough to have played with both of them [Pete Croft and Tony Hall] at gigs and when they sat in with the band at the Suffolk Punch. . . Chris Morley was a great guy, as were Colin, Sean, John and, of course, Tom Montgomery. Wow and Anne Briggs, Johnny Moynihan, Bob Davenport, Percy Webb, et al living locally and sitting in with us so often. I was so lucky.'
Contributors
Alan Helsdon was a friend of Chris's and has pulled the responses together to create this article as well as having transferred the original recordings from the 1970s onto CD. Alan is a regular volunteer for EATMT. See his website for his various publications for sale.
Sean Halpenny is living in Ireland and presents the weekly radio show "Pretty Good Day So Far" on Saturdays at 5pm on Connemara Community Radio. Pre Covid, Sean was still performing numerous times a week in Ireland.
John Chandler is living in Sweden.
Peter Croft is living in Edinburgh and still performing. Earlier this year he released an album called the Buttonbox Breakdown.
Tony Hall is living in Norfolk, still performing and also creating beautiful works of art which he has for sale.
Marilyn Allen is still enjoying the music scene in Suffolk and with the exception of 2020 for obvious Covid reasons, is still a regular at the Blaxhall Ship Sessions.
Bernard Duffield progressed well with the Autoharp and learned to play the hammer dulcimer after Billy Bennington died. He lives in Suffolk where he formed a band called JY Kelly with Alasdair Cameron, Skip Shiply and Joe Crowfoot and in true East Suffolk Country Band style the band is joined by others at various times including Ken May from Old Glory Molly. Bernard also dances with Rumburgh Morris. The Rumburgh Buck is another pub that in "normal" times runs regular traditional music sessions.
Rod Stradling has produced the superb online magazine Musical Traditions. This site is in the process of being transferred to another excellent online resource Mainly Norfolk.
Karen Morley is living in Manchester where she and husband Chris moved to in 2016 (they married in 2001). She still plays an excellent whistle in local Glossop sessions (when not locked down), tends the allotment she and Chris started and walks in the Peak District regularly.
Jeremy Dyde moved to Canada and was living in Bulgaria in 2019. Whilst writing this article, we learned that Jeremy has died.
This article is dedicated to Chris, Jeremy and to the other band members – occasional or not – who are no longer with us.
Alex Bartholomew, Administrator