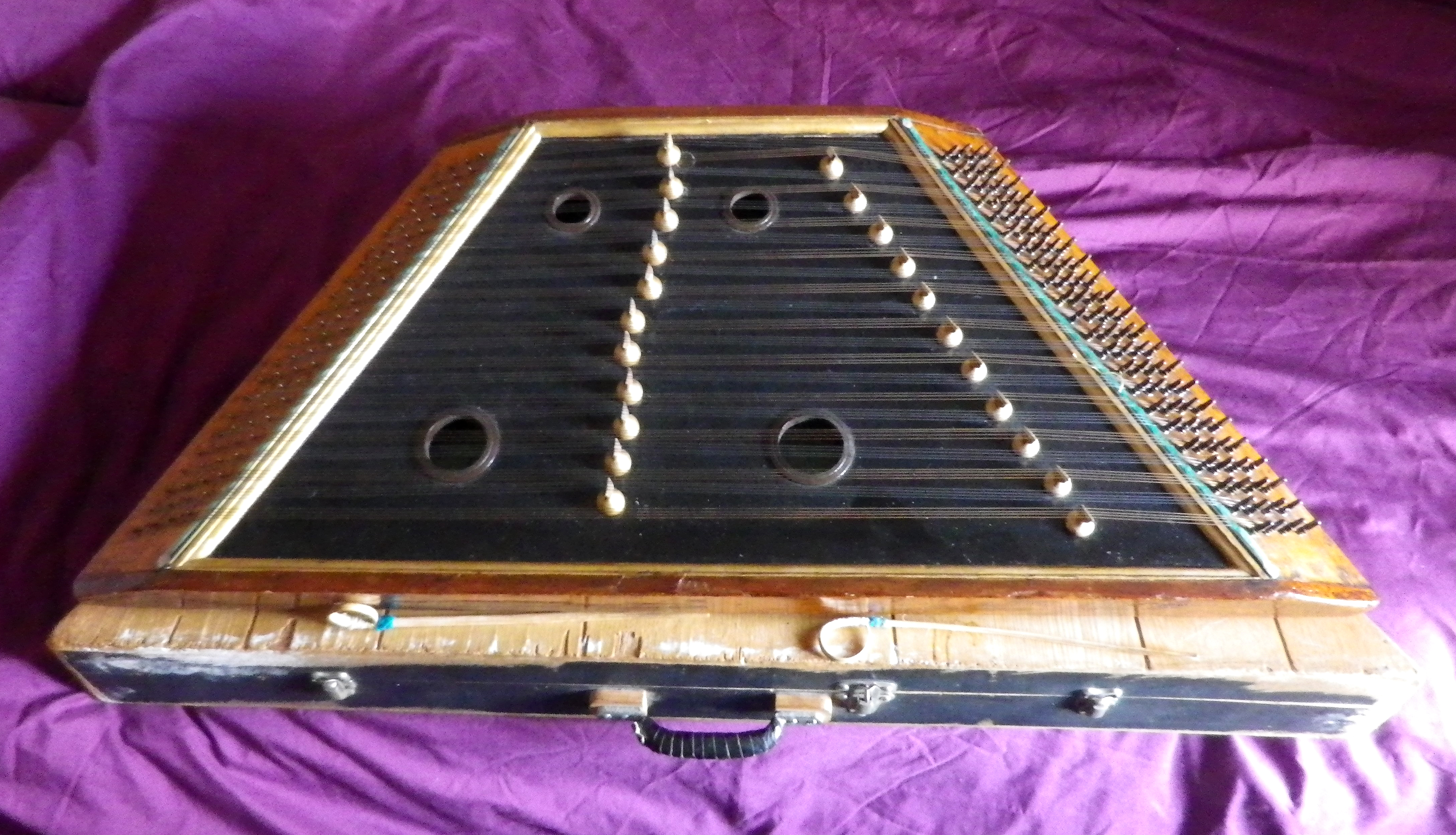 It was our events in Sheringham that inadvertently lead to the Trust's finding of an East Anglian Dulcimer. And not just any old East Anglian Dulcimer.
Richard Blake's Dulcimer talk led to communication from the Nonsuch Dulcimer Club and following conversations with them, we were led to their "Instruments for Sale" page where we found an advert for the sale of an East Anglian Dulcimer with a delightful story attached. A detour from Sheringham's August event resulted in the final deal being struck with the fine instrument. Previous owner, Wendy Godfrey takes up the story:
THE BILLY BENNINGTON DULCIMER 1977 – 2019
In the autumn of 1976 I was asked to join with some friends and family to play for a barn dance at a wedding, I was a musician but had never done anything like this before so was excited to try something new. We learnt a set of tunes, muddled through without a caller and sometimes got our A and B repeats wrong but had a great time (as did the wedding guests, thank goodness!). On the back of that evening more bookings came our way and the band I played in for 8 years and that is still performing today (with two of the original members) was born.
The line-up for our first proper barn dance was:
Whistle – me (music teacher)
Melodeon – Tim Cutress (baker)
Accordion – Dennis Parsons (agricultural worker and amazing self-taught musician)
Rhythm guitar – Keith Atkins (teacher)
Bass guitar – my brother Paul Cripsey (farmer)
Drums – Lorraine Atkins (teacher)
Piano – Alison Tirrell (just until the baby was born!)
Caller – Jim Tirrell (teacher and environmentalist)
My brother was, among other things, a sprout farmer and the band was based in Bedfordshire hence our name, Bricks and Brussels! With monthly bookings we quickly settled into playing as a band and with the influence of the music we really enjoyed (Flowers and Frolics, the New Victory band, the Old Swan Band) we broadened our instrumentation to include clarinet (me) and banjo (my brother) and various guest instrumentalists.
By chance, on a visit home to my parents, I saw an article about Billy Bennington in the EDP and having heard dulcimers in these bands, I phoned Billy and asked whether he could help me as I would like to buy one to learn to play. He invited me over and Dad and I spent a wonderful afternoon chatting to him and listening to him perform. I was completely unprepared for what I heard – melody, bass, harmony, variations, the resonance, the volume, it was phenomenal playing and a seemingly unending repertoire of music all played by ear. He made it a complete solo instrument. At the end of the afternoon Billy said that he had an instrument in his shed that needed renovation and he would happily do this for me. A few weeks later Dad and I returned with my brother, this time with a tape recorder and with Billy's permission, we recorded about 20 minutes of Billy playing the dulcimer he had renovated for me. It is a modest instrument but it had been beautifully renovated with new strings, gold bridges, the original blue rice paper inside and beaters made from a chimney sweeping brush and wrapped in baby blue wool, long since replaced. It is a lovely recording – you can hear the clock ticking, the tea cups rattling, Dad, Paul and me chipping in but most of all Billy's seemingly effortless, joyful playing. To hear him play, to talk to him and to be given this beautiful instrument was an honour and is a very special memory.
My Dad made a case for the dulcimer and I headed back to London to learn to play bearing in mind the tips from Billy and the techniques I had seen him use. In time I could play tunes with the band but in the days before electronic tuners, the big challenge was the tuning of the dulcimer for different environments. So often I turned up with the dulcimer in tune but in a different temperature/ humidity it would be a slightly out and panic retuning would have to take place and sometimes I just couldn't get it done in time!
Alongside the dulcimer we extended the instrumentation of the band with one more player, (David Godfrey) who played trumpet and tuba and our sound was complete!
In 1980 David (now my husband) and I moved to Staffordshire to work for the Music Service and the dulcimer had another exciting if unexpected outing. The youth orchestra was performing Harry Janos (Kodaly) in which there is a solo Hungarian dulcimer part so, with some retuning, the percussionist learnt the part on my dulcimer and although a much smaller instrument than the Hungarian one, with different beaters the huge sound from my dulcimer went a long way to filling the part. So, from Norfolk cottage to Symphony Hall, Birmingham via several years in London and Staffordshire – a very well-travelled instrument!
The dulcimer has now been put back to Billy's original tuning and I am thrilled that although not quite as shiny as it was in the 1970s, after all its travels it has found its way home and will be played and looked after by the East Anglian Traditional Music Trust. The dulcimer brought me a great deal of pleasure and evokes many happy memories but it is time for a new chapter in its history and I am thrilled that this will be under the care of Alex and the EATMT and it's very special story will be preserved for future generations.
Wendy Godfrey 2019
You can hear this recording by clicking HERE