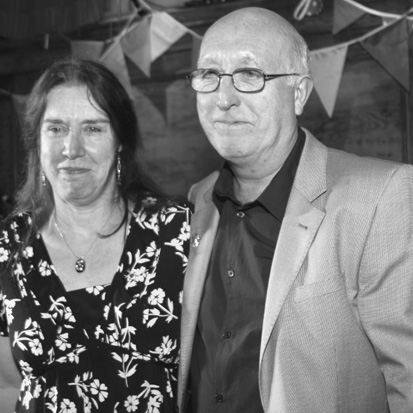 Long-standing supporters of EATMT may have wondered what our retired founders, Katie and John Howson, have been up to in the past four years. So as EATMT reaches its 21st Birthday, we catch up with their news.
As you might expect, they have not been totally idle! Here's an update on two recent projects: Katie's new website Unsung Histories and a presentation from John on singing and music from nine Suffolk pubs: "All Aboard the Charabanc".
John writes:
"All Aboard the Charabanc" features singing, music and archive photos from nine pubs in the Mid Suffolk area. From the late 1970s onwards, I travelled the length and breadth of Suffolk, but particularly concentrated on the area around Stowmarket, close to where I live. I called in to post offices, pubs and private houses to find singers, musicians and dancers from an older generation who sang and played and recalled the traditional music of their younger days. Much of this research was published in "Many a Good Horseman" (book and CD) and also the book "Songs Sung in Suffolk". This is now out of print, but I am working on a new, expanded edition. There are a number of CDs on the Veteran label featuring these performers, such as Charlie Stringer from Wickham Skeith, Gordon Syrett from Mendlesham and Manny Aldous from Great Bricett.
"All Aboard the Charabanc" was conceived as a light-hearted presentation for one of the Traditional Song Forum's Sunday afternoon Zoom meetings in June 2021, and takes the form of a virtual pub tour on a coach, with music on the journey and songs in the pubs. It lasts about 30 minutes and this is a specially edited version for the EATMT website. Climb on board for this whistlestop tour of Suffolk traditional music!
Katie writes:
When the first lockdown in 2020 meant that the rug was pulled from underneath our feet regarding live music, I found I had a lot of time on my hands – the perfect opportunity to start writing up some of the research projects I have had sitting around for – in some cases – years! And with so much research material available online, I could update things from the comfort of my own study at a time when visiting people or museums etc was not possible.
A couple of these projects have surfaced as presentations for the Traditional Song Forum, and then early in 2021 I decided to provide a web-home for these articles. They cover a wide range of subjects and locations, although all are related to traditional music, and they tend to focus on the singers/dancers and musicians rather than on musical analysis: the social history side of things has always fascinated me!
So the website Unsung Histories was born and at the date of writing, in late July 2021, there are 15 articles published on there. Some are relevant to East Anglia, others are not, but they already include a series of six on Southwold musical traditions and five on King's Lynn. This has allowed me to go into much more detail than previously, about different aspects – for example, John Seymour's radio programme from King's Lynn, and William Hurr senior, the father of Vaughan Williams' Southwold singers. One new angle that I have been examining is the visual evidence provided by painters and photographers, particularly in Southwold ("Up from the Sea").
I try and post at least one article – or a series – per month. In July the two articles were nothing at all to do with East Anglia, but people interested in the roots and routes of traditional music may enjoy reading about a barrel organ taken to the Arctic around 1820 and the music on it. These tunes were mainly dance airs, including tunes popular today such as Speed the Plough and Paddy Carey – see "A barrel organ in the Arctic" and "Will the real Paddy O'Rafferty please stand up!" The next article due is about another of the tunes found on that barrel organ, the famous (but now forgotten) young dancing star for whom it was named, and a stepdance routine called after her: "Miss Gayton and her Hornpipe". These stories have attracted the attention of organisations as diverse as the Scott Polar Research Institute and the Musical Box Society of Great Britain, who will be publishing my barrel organ article in their journal.
Future articles include a series about women musicians and dancers from Norfolk and Suffolk, "accidental" folklorists, and stepdancing competitions.
There is also a Facebook Page for Unsung Histories where I post slightly shorter versions of the articles. I would love as many people as possible to read these articles, so I do hope many EATMT followers will have a look at the website or the Facebook page where you can of course "like" and "share"!
Additionally, John has completed an academic article for publication in the EFDSS' 2022 Folk Music Journal, about a Liverpool poet, Edward Rushton, whose songs were published on broadsides in the early 1800s – and Katie is offering online melodeon tuition.
Together they have worked on adding many more pages to their website about East Anglian dulcimers and players, including new material on Stanley Shemming from Ipswich, Walter Finter from Needham Market and Dolly Gray and other Norwich players.
WEBSITES:
John Howson – http://www.veteran.co.uk/ https://www.facebook.com/veteranmailorder
Katie Howson – https://katiehowson.co.uk/https://www.facebook.com/unsunghistoriesfb
Unsung Histories – https://unsunghistories.info/
East Anglian Dulcimers – http://www.eastangliandulcimers.org.uk/
EATMT are grateful for the continued support and guidance that Katie and John give.
July 2021