Welcome to our Summer 2019 Newsletter
The season of festivals and, we hope, sunshine!
We bring you a report on our visit to the Suffolk Show, our first two classes in the Mel's Monthly Melodeon Series and work with the Gordon Ruddock Bursary recipients. We have news on our new funding support for Stepdance Day and on our recent musical bequest that is "Hilton's Hoard".
Dates for your diary between now and October are:
Stepdance Day – Sunday 21st July 2019 2pm at Strumpshaw Tree Fair
Dulcimers at the Sheringham Mo– Friday 26th July 2019 12.30pm at Sheringham Museum– lunchtime talk by Richard Blake
Folk East– Friday 16th-19th August 2019 at Glemham Hall. Come and say hello – we have a stand in the Instrumental Area
Traditional Music making at the Sheringham Mo– Saturday 31st August 2019 Music Making at 11 and Performance at 2pm
Pressing the Buttons at Cider and Song– Saturday 19th October 2019 Workshops for Concertina and Melodeon
Cider & Song – Friday 18th October 5pm and Saturday 19th October 2019 at the Museum of East Anglian Life
The first of our series of Mel's Monthly Melodeons started in June in Newmarket. Horse's Bransle was the tune of the morning with players looking at basic harmonies, right hand chords and basic left hand chords. Something for everyone all washed down with tea, coffee and biscuits. The second class has just taken place and Summer homework set for work on the Winster Processional and Brite Jig. There is now a break for the Summer and Mel and the Squeezers return on September 11th for a new tune and a new technical challenge. It's not too late to sign up for these classes – you can join in at any stage of the series. See www.eatmt.org.uk for the booking details.
"A great session that was enjoyed by all of us taking part. Even rank beginners like myself could end the workshop playing our part in the concluding run-through of Horse's Bransle, a lovely tune. Something for everyone, whatever their level, and well worth the trip to Newmarket. Many thanks, Mel and Alex!" -TIM N

"It was hard work but really worth it, as I learned such a lot in just a few hours. I found the pace just right and Mel was so helpful in answering all my questions! " -PAT H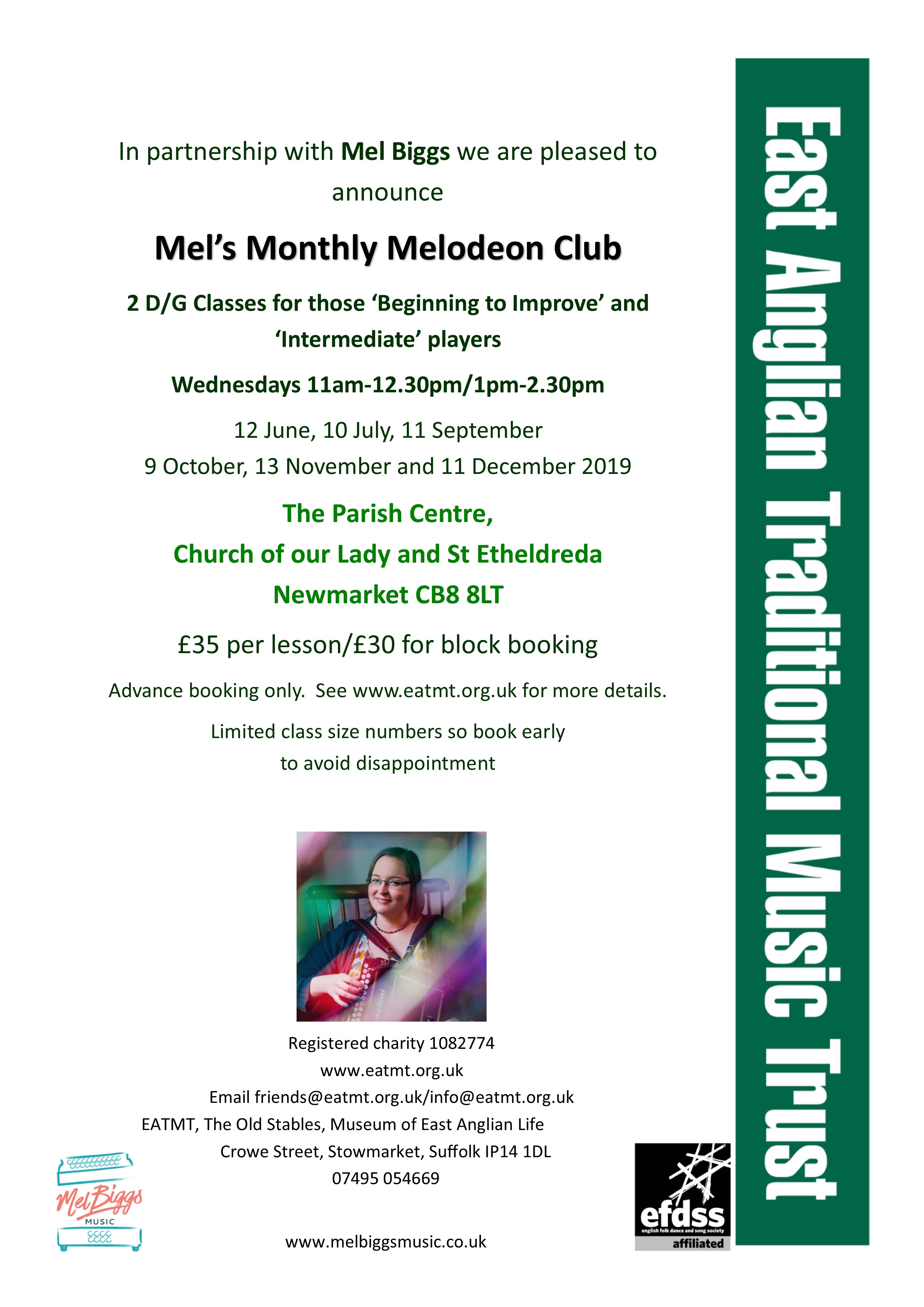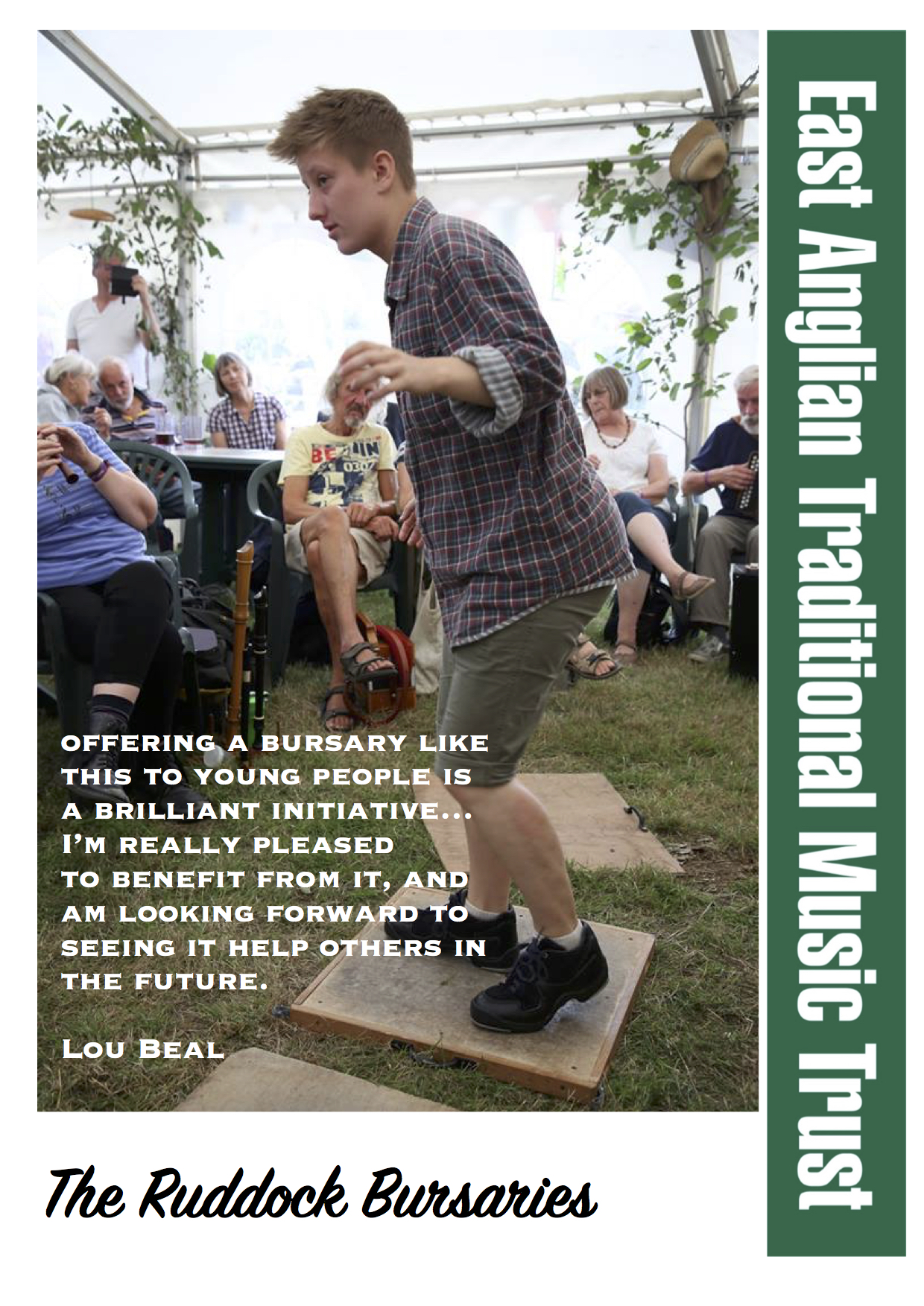 Samuel and Megan joined us for a concert spot at the Suffolk Show in May where we were invited to join the Suffolk Record Office for the two days. SRO were promoting their "Sharing Suffolk Stories" project, advising on Family History and promoting their new building "The Hold". Shirley Harry joined us for a few songs and we were entertained by storytelling, the Rogue Shanty Buoys and Lynn and John Ward.
Photos EATMT
Most of our Gordon Ruddock Bursary Recipients gathered together this week – working together to provide music and dance tuition at Westley Middle School's Maypole Year 5 event. Tunes from our tunebook (Before the Night Was Out) were played to the children on a variety of instruments and the Jig Dolls had an outing too.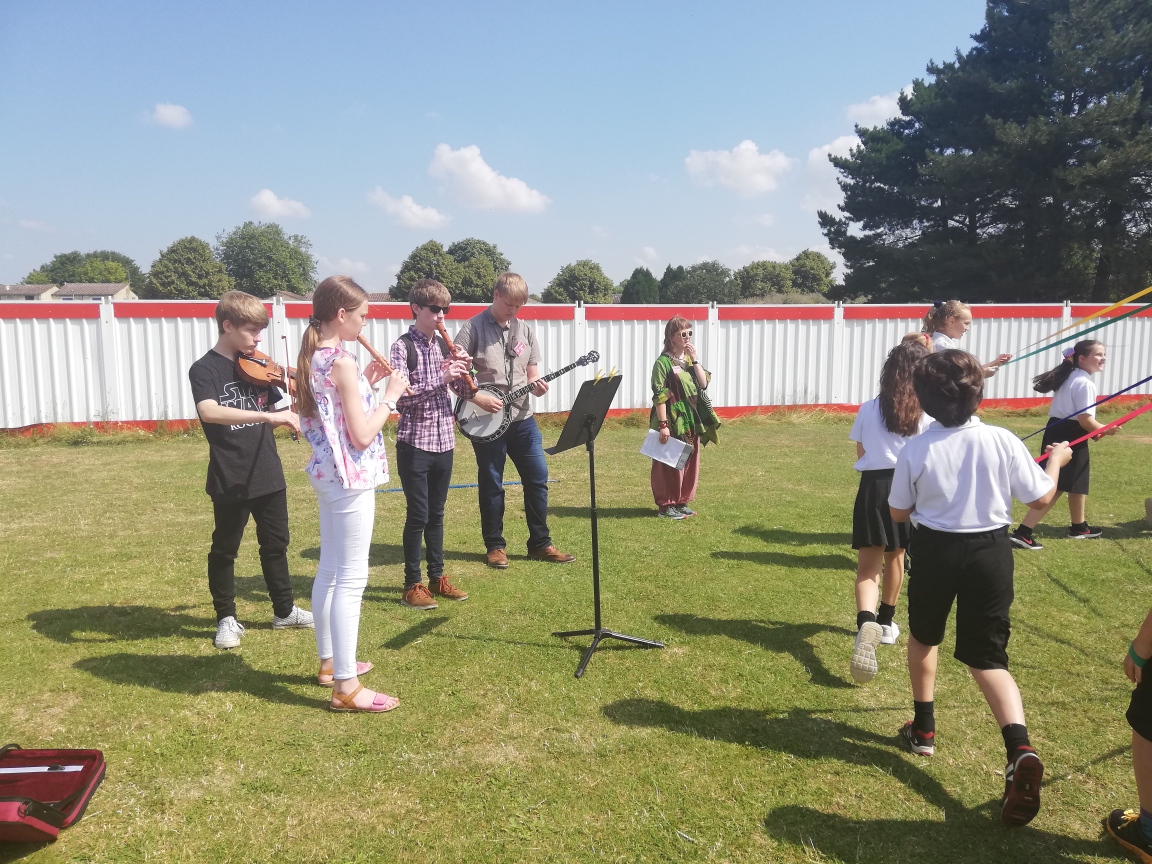 Photo EATMT
We are also hoping to have some of this year's recipients at FolkEast performing at some point at our stand over the weekend.
Stepdance day, which this year takes place in the Dance Tent at the Strumpshaw Tree Fair on Sunday 21stJuly at 2pm, is almost upon us under the direction of Norfolk Stepper Fiona Davies.
Fiona Davies is an Artist & stepdancer born & living on the North Norfolk coast. Fiona was born in September 1969 into the famous fishing, lifeboat and stepdancing family, the Davies' of Cromer. She is the great, great niece of the most decorated lifeboat man, Henry Blogg and the daughter of the well known Norfolk stepdancer, lifeboat man and fisherman, Richard Davies.
Fiona believes in promoting stepdancing around East Anglia, performing at local fairs, events and festivals. She is involved with the teaching of workshops at many festivals to educate and keep the tradition alive. Occasionally you will also see her dancing at music sessions.

We were delighted to learn the Instep Research Team are supporting this event and will be for the next three years. Fiona will kick the event off with a talk and demo of Steppers from across the East Anglian Region. Lou Beal will be running a Stepdance Workshop and then the annual competitions will follow on.
We will be looking into developing community/school projects annually in line with this annual event. Talk to us if you're interested in getting involved.
We are excited to be working in collaboration with the Sheringham Museum and their Folk Art Exhibition "Time on their Hands". The first event is a lunchtime talk on Dulcimers with Richard Blake on Friday 27th July at 12.30pm.
We are also involved in some Traditional Music making at the Mo on Saturday 31stAugust. At 11am we will be promoting the playing of Dulcimers, Melodeons and Concertinas with some music provided by Norwich based 'self help' melodeon group "Vintage Squeeze", Squeezeast Concertinas will be joining us with some of their concertina players and Richard Blake will be playing a Dulcimer. There will be an opportunity to have a play on all of these instruments and a chance to get some guidance and advice on playing, buying and hiring. Then at 2pm, come and listen to Hushwing perform. Hushing are a 6 piece band from Norfolk and are devoted to the traditional music of Norfolk. Collector and researcher and fellow band member Alan Helsdon will also sing a couple of songs collected by Ralph Vaughan Williams on his visits to Sheringham at the turn of the 20thcentury.
Usual Museum Admission charges apply (£4.50/£4 concessions, £2.50 5-16 yrs, family passes available) www.sheringhammuseum.co.uk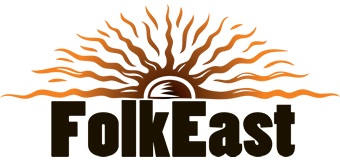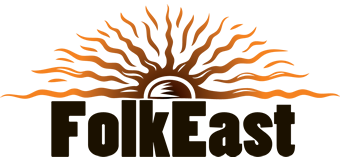 Come and say hello if you're at FolkEast between 16-19 August at Glemham Hall on the East coast of Suffolk.
We'll have a stand in the Instrumental area where we hope to be joined by several East Anglian musicians over the weekend including some of our Gordon Ruddock Bursary recipients.
Work is coming together nicely on our Workshops for Concertina and Melodeon Players which takes place alongside Cider and Song, which is the Museum of East Anglian Life's event on 18th/19thOctober. The Workshops – "Pressing the Buttons" run on the Saturday 19th October and we are pleased to have Steve Dumpleton and Otis Luxton as our melodeon tutors and Alan Day and Sally Barrett as our Anglo & English Concertina tutors. Bookings are now open
The Trust has once again been invited to programme the musicians for the Festival side of this weekend and the full line up will be announced for this Festival soon by the Museum of East Anglian Life.
Tickets for the Festival will be direct from the Museum (unless you are booking for Pressing The Buttons via EATMT) either online or on the day. Usual museum admission prices apply – Saturday tickets for the entire day , including the evening, cost £12/£10 concession £8 child and family rates. You can also purchase tickets for just the evening performances on the Friday or Saturday for £7.50 per evening.
Join us on the Friday night for a Traditional Music and Song Session with Richard Cove as MC and Company of Horham Old School as the host band for the evening. Richard MCs the monthly Traditional Music Session at the Blaxhall Ship Inn and we already have a fine number of musicians adding to the line up.
On the Saturday, in addition to apple themed events, there will be performances, free singing workshops – harmony and shanty singing, have a go at melodeon, concertinas and jig dolls and a lunch time session.

Camping will be available – please enquire!
We'll update our website and Facebook page with further details, including performers, as they are released eastanglianlife.org.uk/events/cider-song-festival/.
John Halliday
We were deeply saddened to learn of the death of John Halliday, a very dear friend to us all at the Trust and to the wider musical community. It has been an absolute pleasure to have his support and friendship over the many years and we send our love and best wishes to his family and close friends. One in a million – John Halliday.
We've dedicated a special page to John's memory which you can find here.
We were also saddened to learn of the sudden death of long-time supporter and Friend, Adrian Hilton back in December. He had been a regular at events run by EATMT over the years. In May, we received a letter from his wife, Ann, who wanted to let us know that Adrian had requested that EATMT be given his large eclectic collection of musical instruments.
Adrian was an exceptionally talented musician and his love of music is evident in this collection of instruments.
Adrian had been a member of Chingford Morris Men for 46 years being Squire for 20 of them. He was a dancer, musician, author and performer in the Mummers Play that Chingford Morris perform annually.
We collected a car full of instruments in June and are part way through cataloguingand photographing this exciting treasure that is "Hilton's Hoard". Among the instruments, we have a beautiful Concertina, several melodeons (including his own built melodeon from the Trust's "Build a Melodeon" course with Emmanuelle Pariselle), whistles, recorders, a hammered dulcimer, a bombard and a didgeridoo! Adrian's beautiful green Parsifal C row melodeon features on the Pressing the Buttons workshop flyer.
We are busy cataloguing and assessing each instrument and getting advice on several. We're very much hoping to add a number to our instrument bank and to be able to use them in future projects and events. Our thanks go to Martyn White, Chris Gutteridge and Richard Blake for their advice and guidance given on the instruments we've catalogued so far.
Filming with Antiques Road Trip
Photographs courtesy of Adrian Carlton
STV, the production team for BBC's Antiques Road Trip, contacted us for some advice on traditional music earlier this month. We invited "Bristol Fashion" to get involved and as a result, they chose to film at the Bedford Crown in Suffolk. Bristol Fashion are Sue and Adrian Carlton, June and Mike Crisp and Alan Davidson. They were keen to get involved and they extended the invitation to the "Sunday Gang" from their occasional Sunday afternoon sessions at the pub.
It was a great turnout and the film crew and Antique hunter, John Cooper Clarke were treated to dulcimers, traditional music, stepdancing and jig dolls.
Thanks too to Richard Blake who imparted some expert advice on dulcimers with the research team prior to the filming session and to the Bedfield Crown who continue to encourage Traditional Music.
The Programme will be aired over the Winter and John Cooper Clarke's opposition will be Phil Jupitus.
Keep an eye out on our facebook page and next newsletter for dates of the airing of this episode.

Projects
Whilst the summer months in the office are dedicated to the various events we are involved with between now and October and the various administrative roles that are required to help everything keep EATMT ticking over, our Trustees are busy working on project funding bids.
We have lots of irons in the fire, with lots of ideas for new projects and organisations to work with so we are hopeful that we will have news on our success during the autumn months.
Watch this space…
In the meantime, do come and say hello over the Summer at our various event spots.

Website
Please bear with us while we update and improve the website – there is much work still to be done and pages still missing from our website crash but we will get there!
Become a friend of the trust
We welcome all of you interested in traditional music to join our Friends group and support and secure our East Anglian music, song and dance traditions for the future.
Some benefits of being a Friend of EATMT
– you will have the satisfaction of knowing that your donation is helping to support and sustain the traditional music, song and dance of East Anglia and provide events and resources to nourish our traditional culture in the future
– you will have opportunities to get more involved, meet new people and play a more active role in supporting traditional music in East Anglia
– you can take advantage of priority booking schemes/friends' rates tickets, receive regular news updates and other special offers.
It's all about friendship.
Print out our membership form here.