Welcome to our Autumn 2019 Newsletter – A time to look over the past year and look forward to 2020.
Here at Trust HQ, the last of the event boxes have just been emptied and stored away and the backlog of administrative tasks are slowly being attended to.
The website is being updated with reports, photographs and video links of the events we've been involved with during 2019. Over the autumn and winter months, with thanks to offers of help, we'll slowly be looking through the archives on the computers and uploading more material and archives onto the website from days gone by.
If you find incorrectly attributed photographs or incorrect information as you look at the website, please do get in touch. We are aware of some already and are working to right this.
The popular "Musicians Profile" page on the website is currently being worked on and with help from a keen volunteer, hope to get another musician added in the coming weeks. If you'd like to research into a local musician that you feel should be recognised on our website please do get in touch.
EVENTS 2019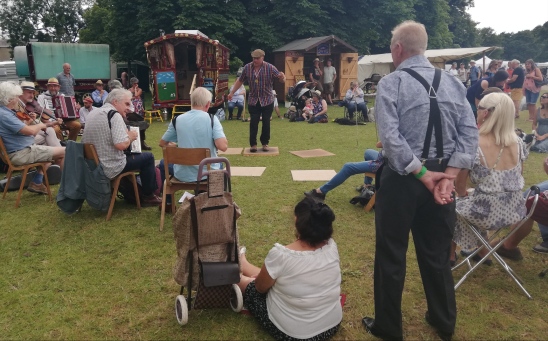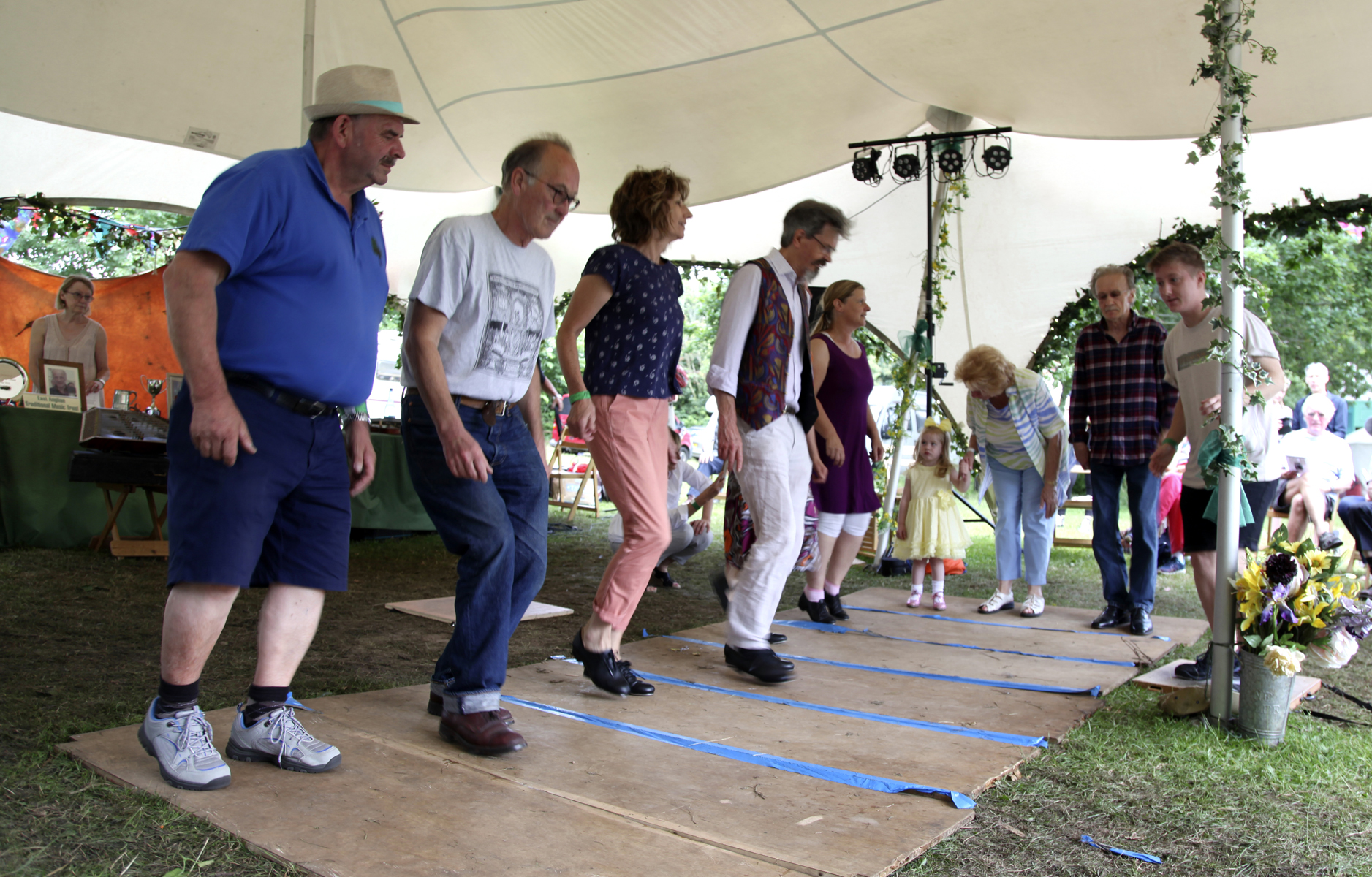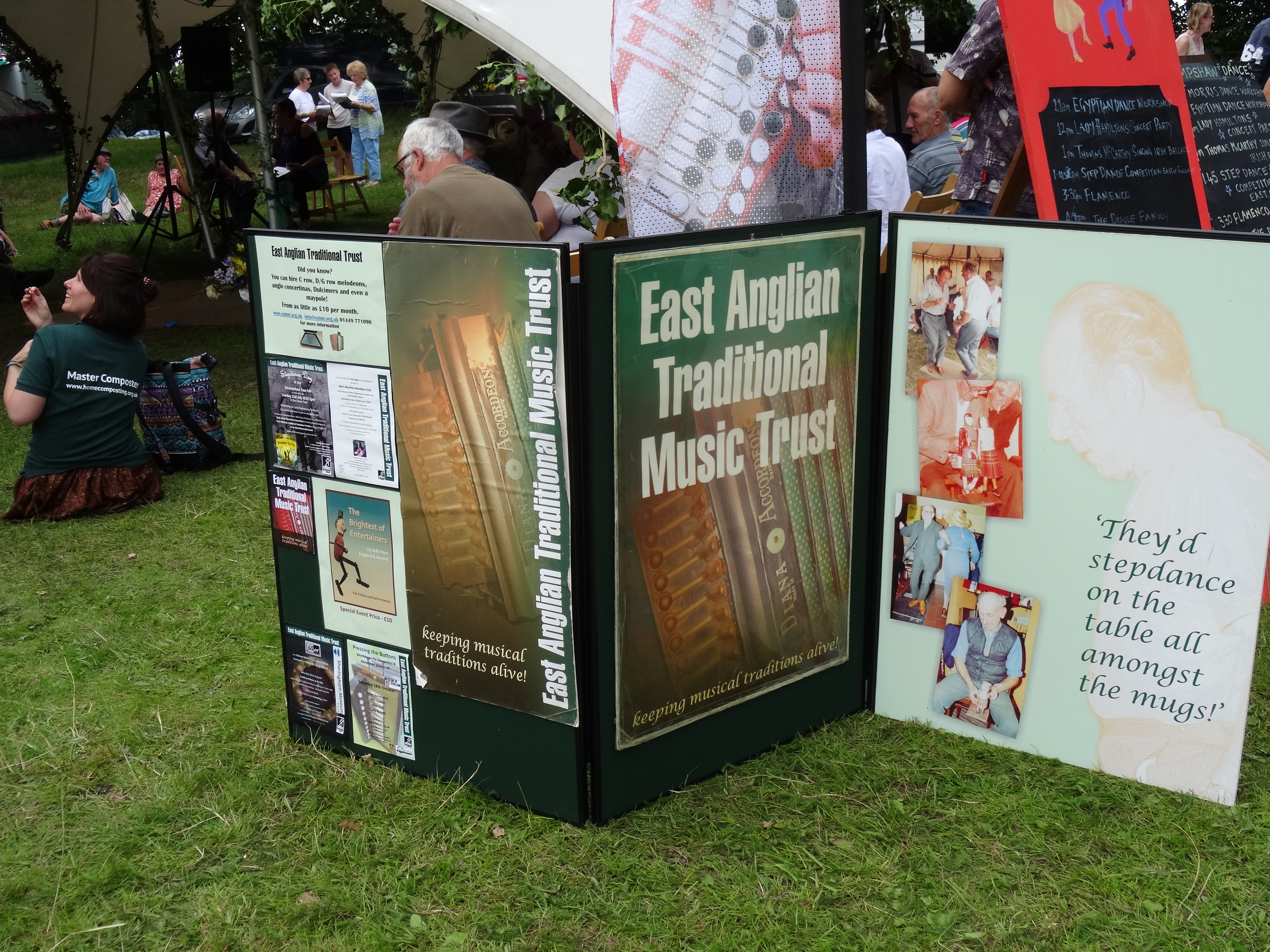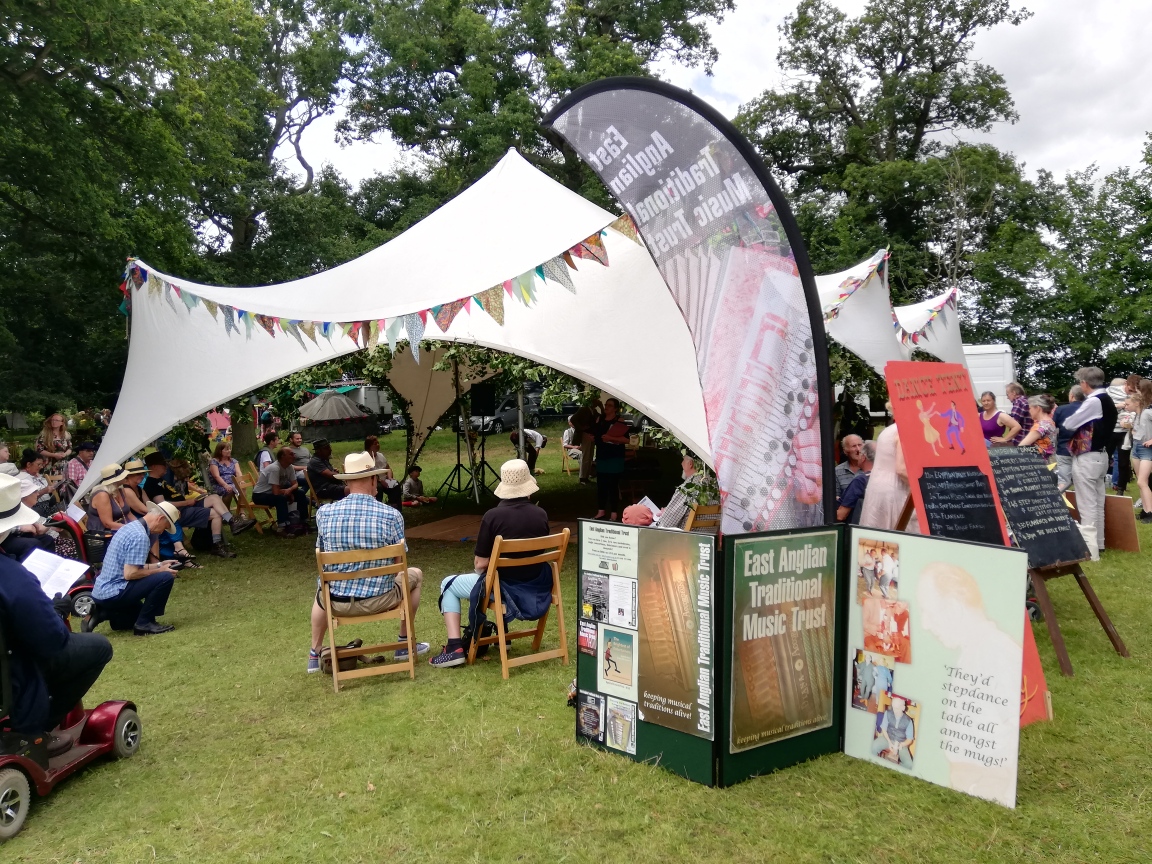 Photos courtesy of C Gill, G Wade, EATMT
Stepdance Day
Stepdance Day stepped into Norfolk for the first time in July and found a very warm welcome from the organisers of Strumpshaw Tree Festival. Under the direction of Fiona Davies and with thanks to the support of the Instep Research Team, we were delighted to see so many familiar faces and we welcomed new faces and feet to the boards. We were proud to be able to showcase dancers from across all areas of East Anglia. You can read the report and see the photos of the day here. We'll be joining this lovely festival again in 2020 which runs 18 and 19th July.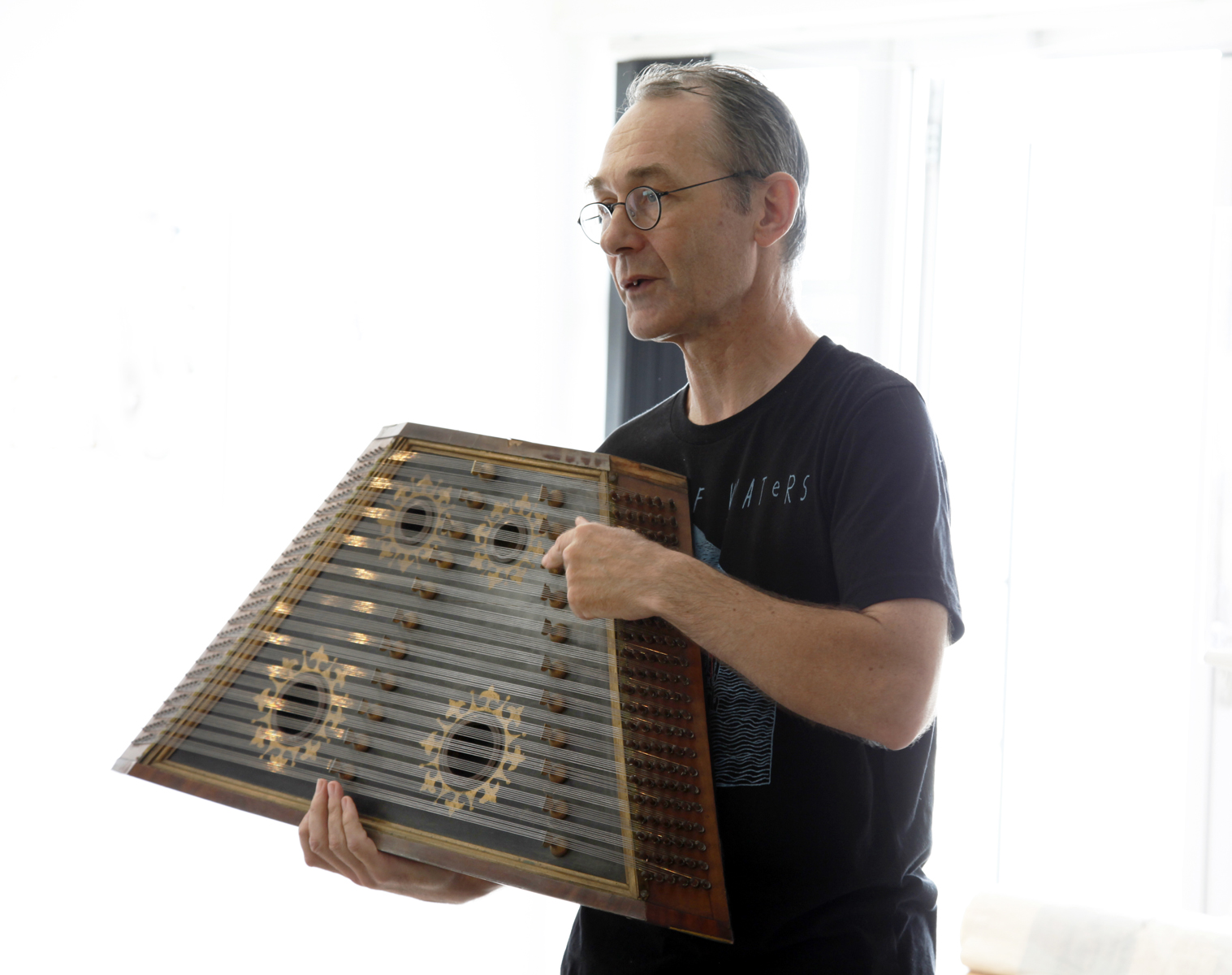 Music at the Mo in Sheringham
Summer in Sheringham
We were excited to be involved in two events with the Sheringham Museum over the summer as part of their FolkArt exhibition "Time on their Hands". The first event, a lunchtime talk, was led by Richard Blake who talked about Dulcimers. One of our Friends and volunteers, Chris Gill, recorded the talk. The link is being worked on and you'll be able to find it on the event page very soon! The video was requested by the Nonsuch Dulcimer Club who are keen to write an article on the East Anglian Dulcimer. We'll put up the link to this when it has been published.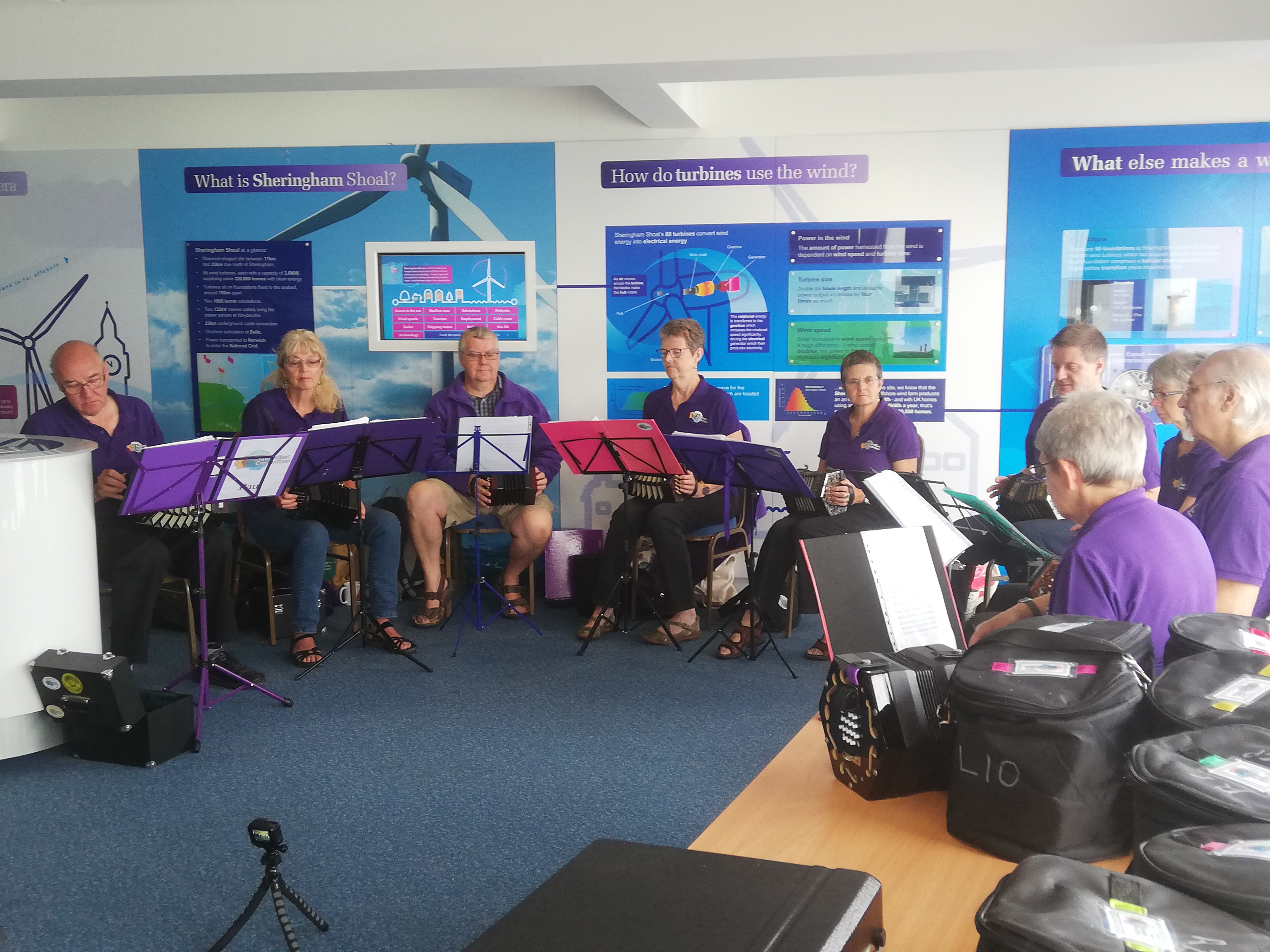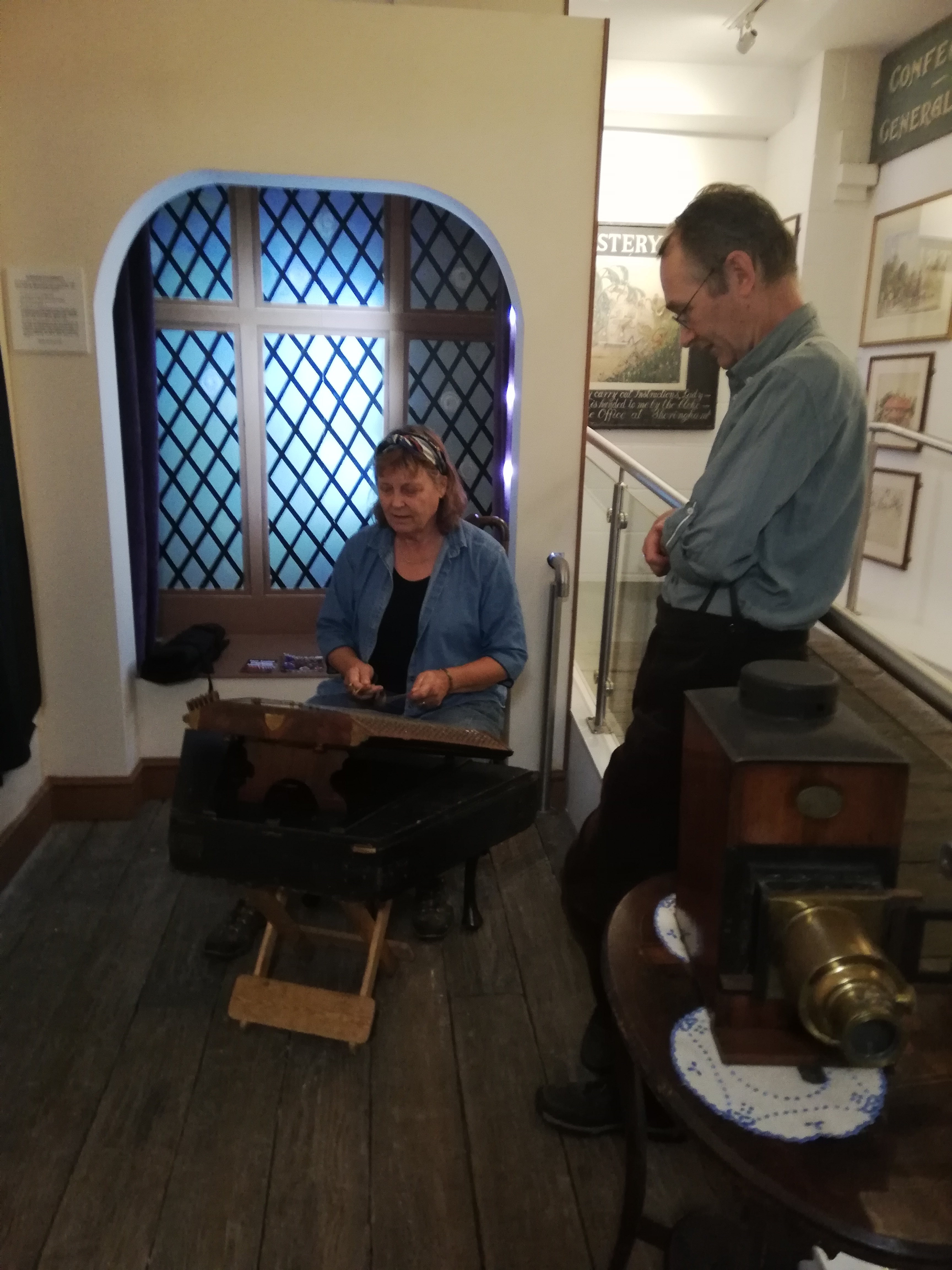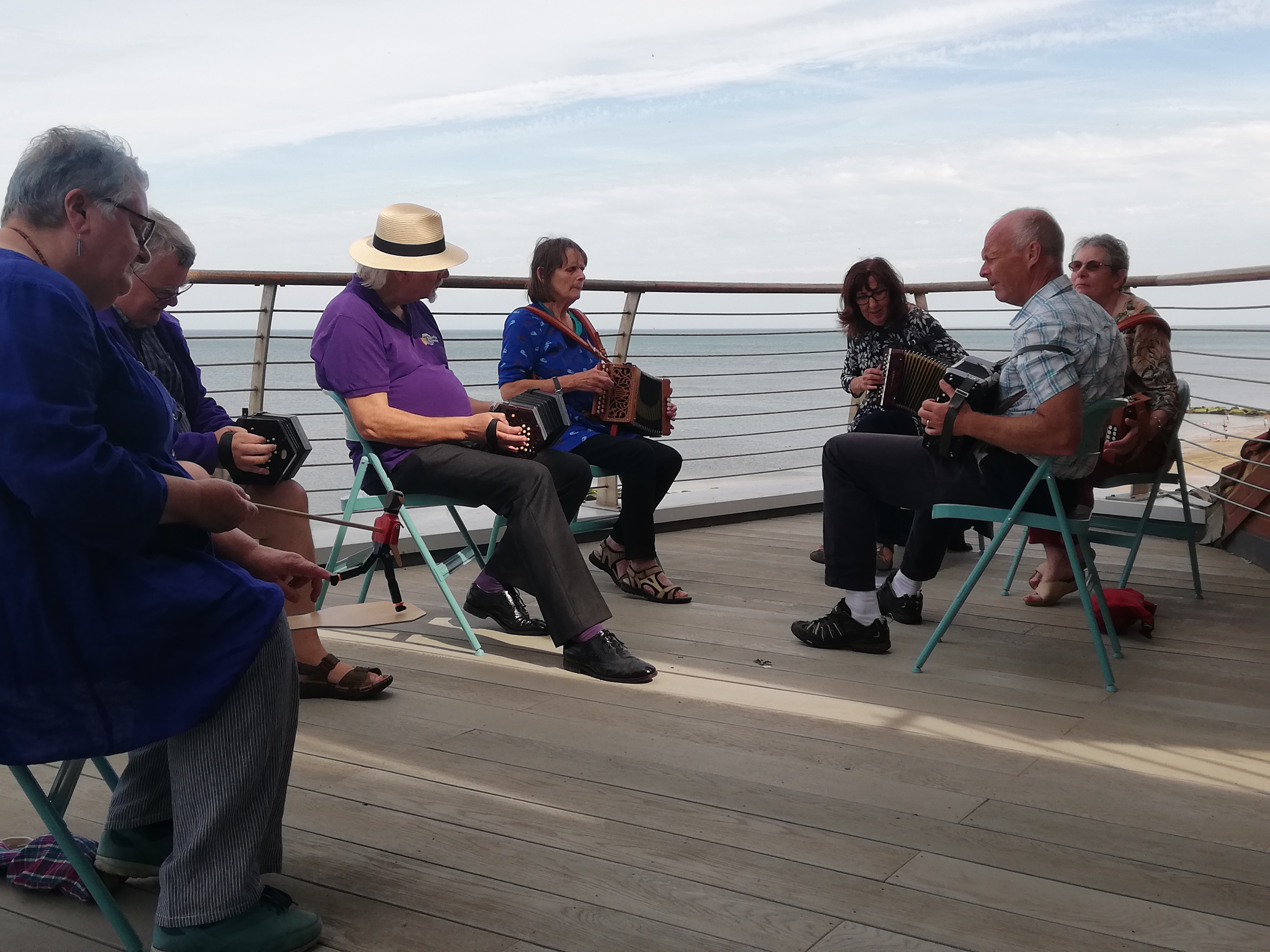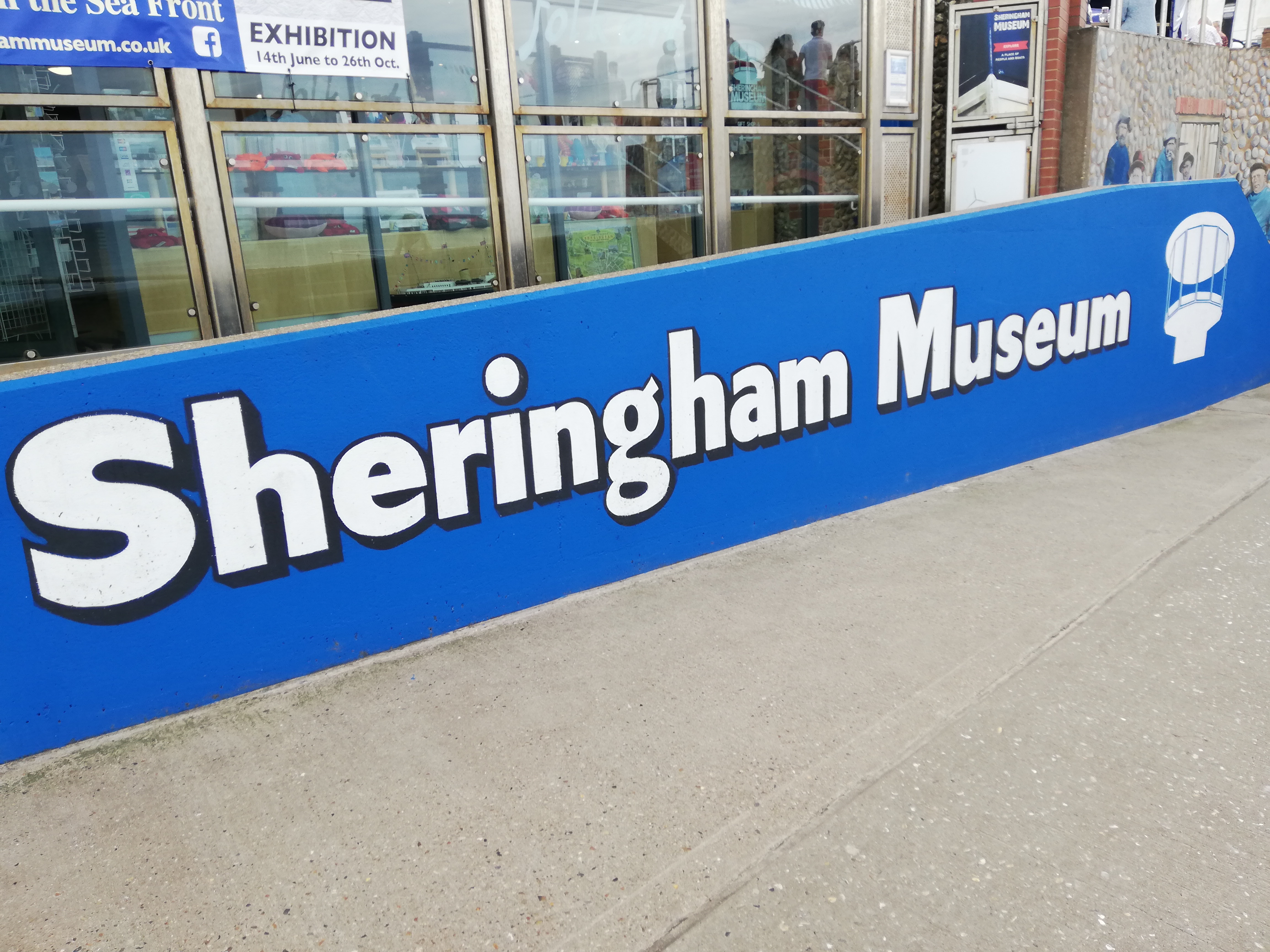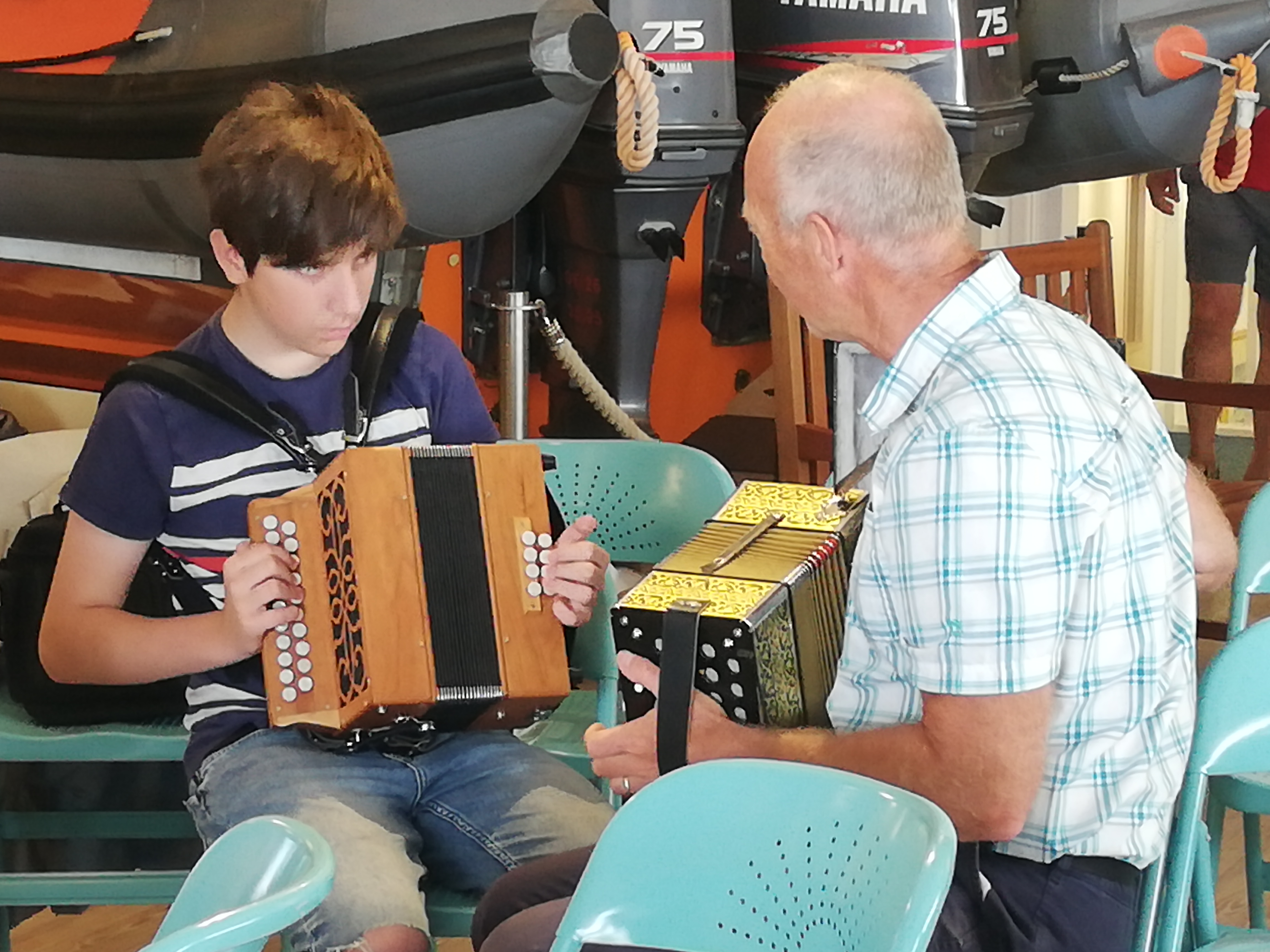 Left to right: SqueezEast Concertinas; Student Jackie with Richard Blake; Lunchtime session; Sheringham Museum entrance; Student Patrick with Vintage Squeezer Peter. Photos EATMT.
The second event for the museum took place in the form of a day of Traditional Music at the end of August. We were delighted to be joined with self help melodeon group Vintage Squeeze, SqueezEast Concertinas and Richard Blake who offered a morning of "have a go" melodeons, concertinas and dulcimers. Hushwing performed to a large gathering in the afternoon in what was a thought provoking programme of music. There's a write up of both events plus photographs here and video links from local film maker Jeff Link of Norfolk Nuggets click here.

FolkEast
We thoroughly enjoyed ourselves at FolkEast. Situated in the Instrumental Area, we were made to feel so very welcomed. Trustees, Bursary recipients, Friends, volunteers and musicians joined us over the weekend. We sold a good lot of Tunebooks and Jig Doll Books and it triggered a flurry of instrumental hirers. Our pitch has been reserved for 2020 – 21st, 22nd, 23rd August. See the report and photographs here.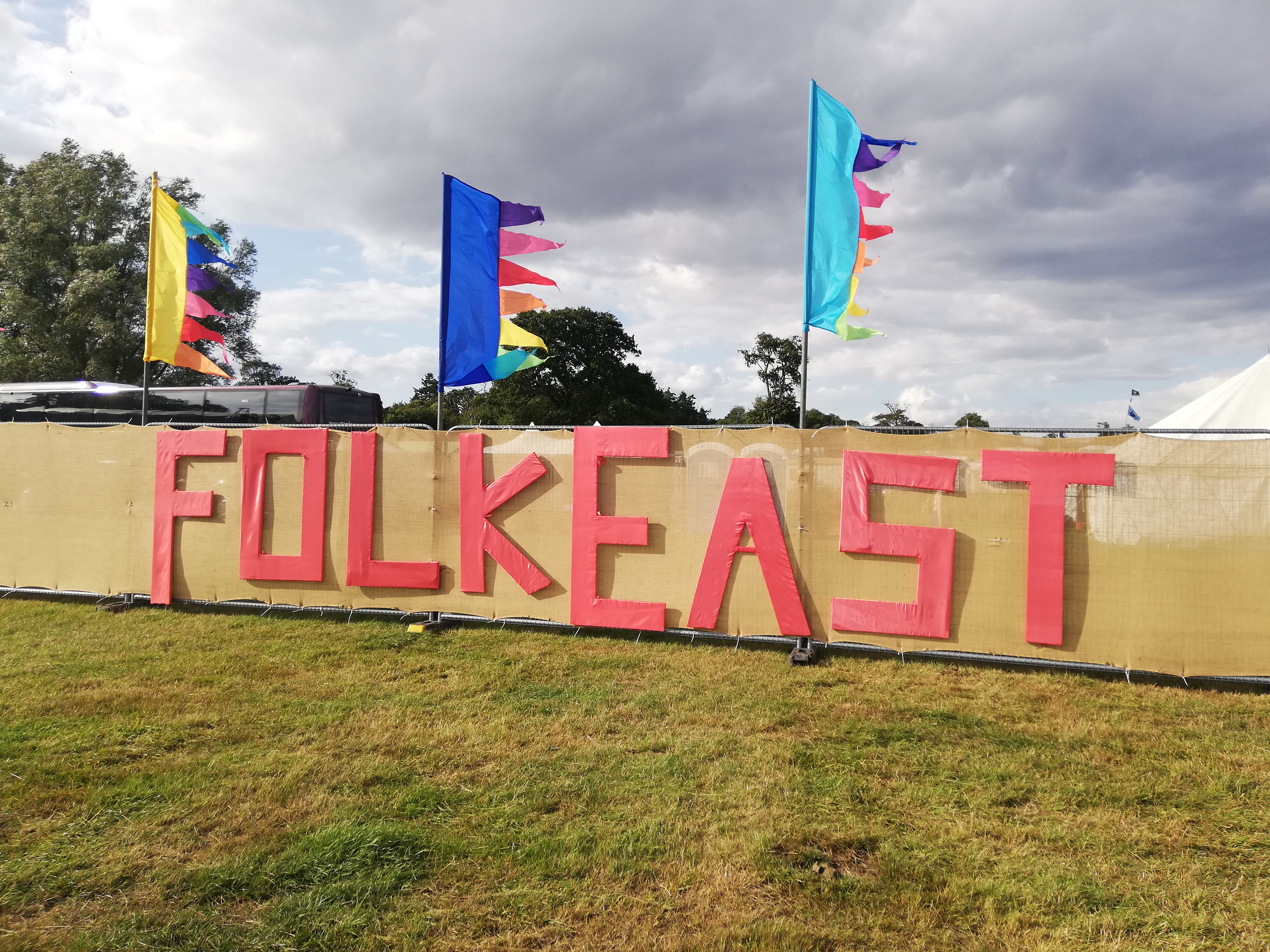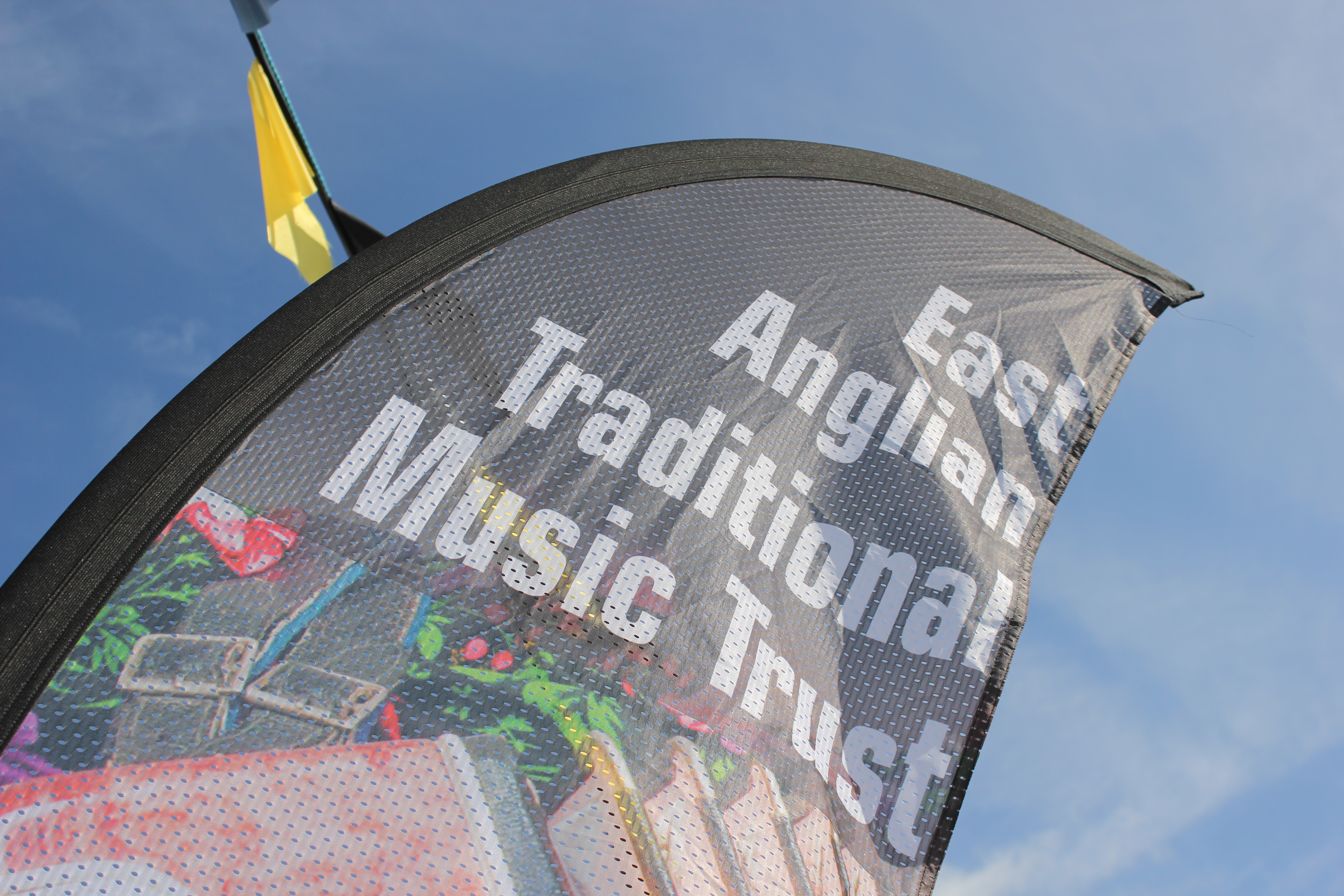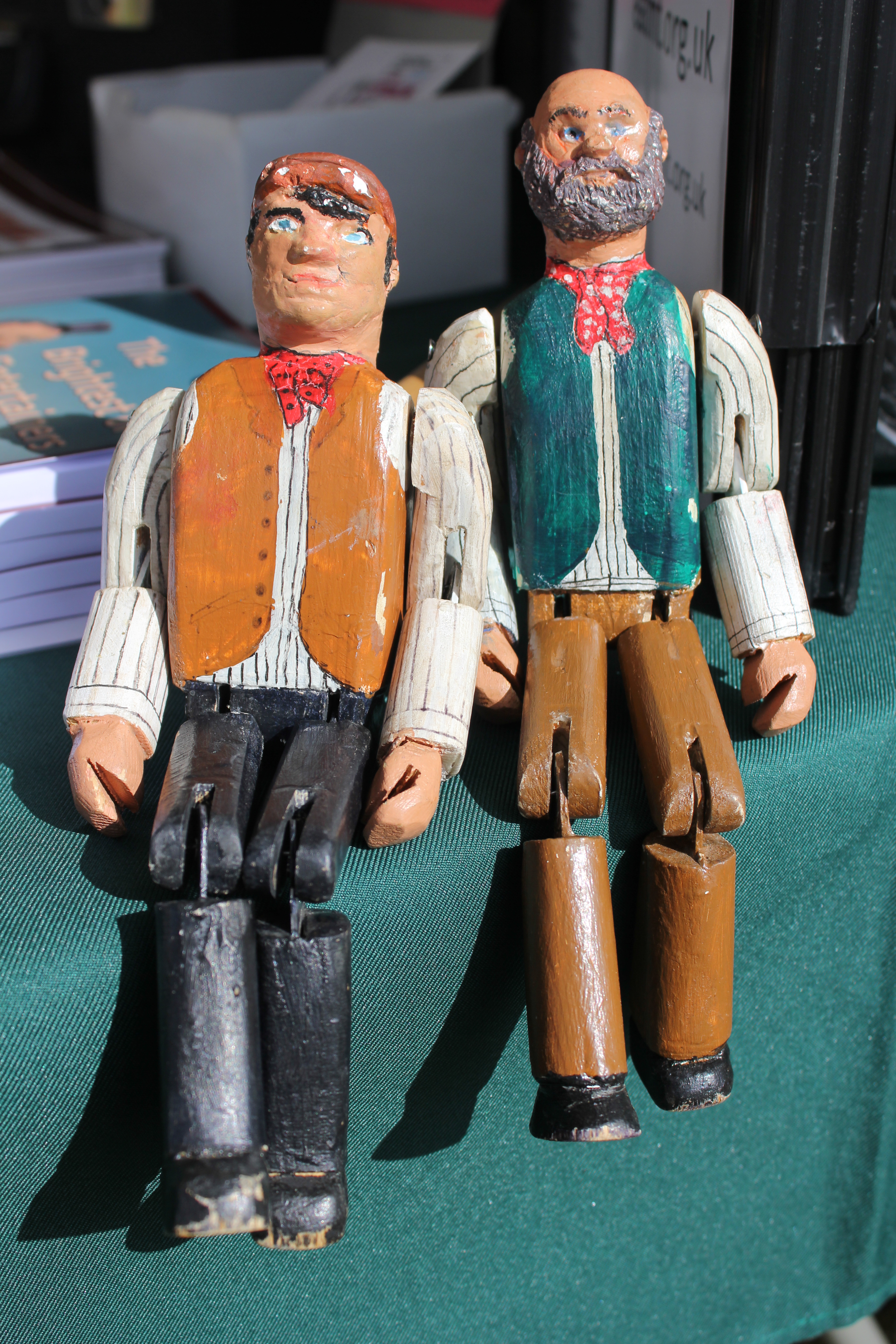 photos EATMT
Cider & Song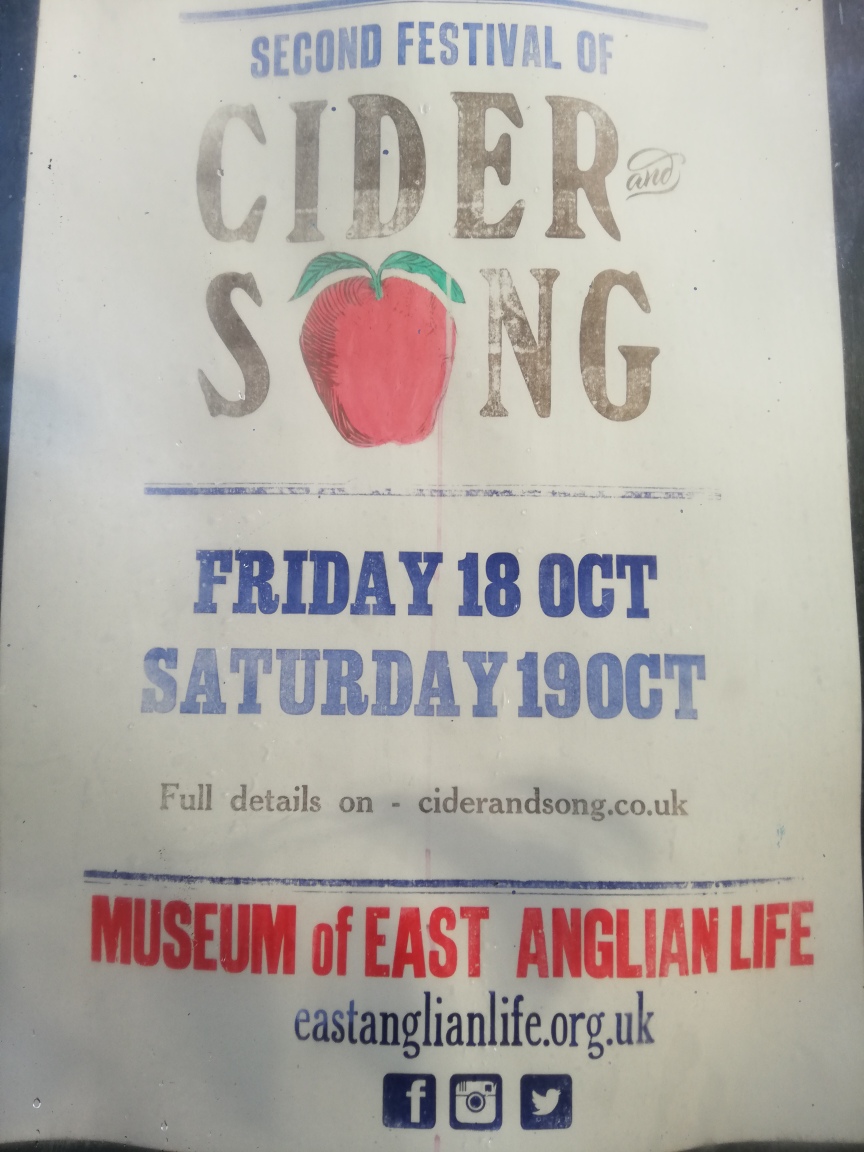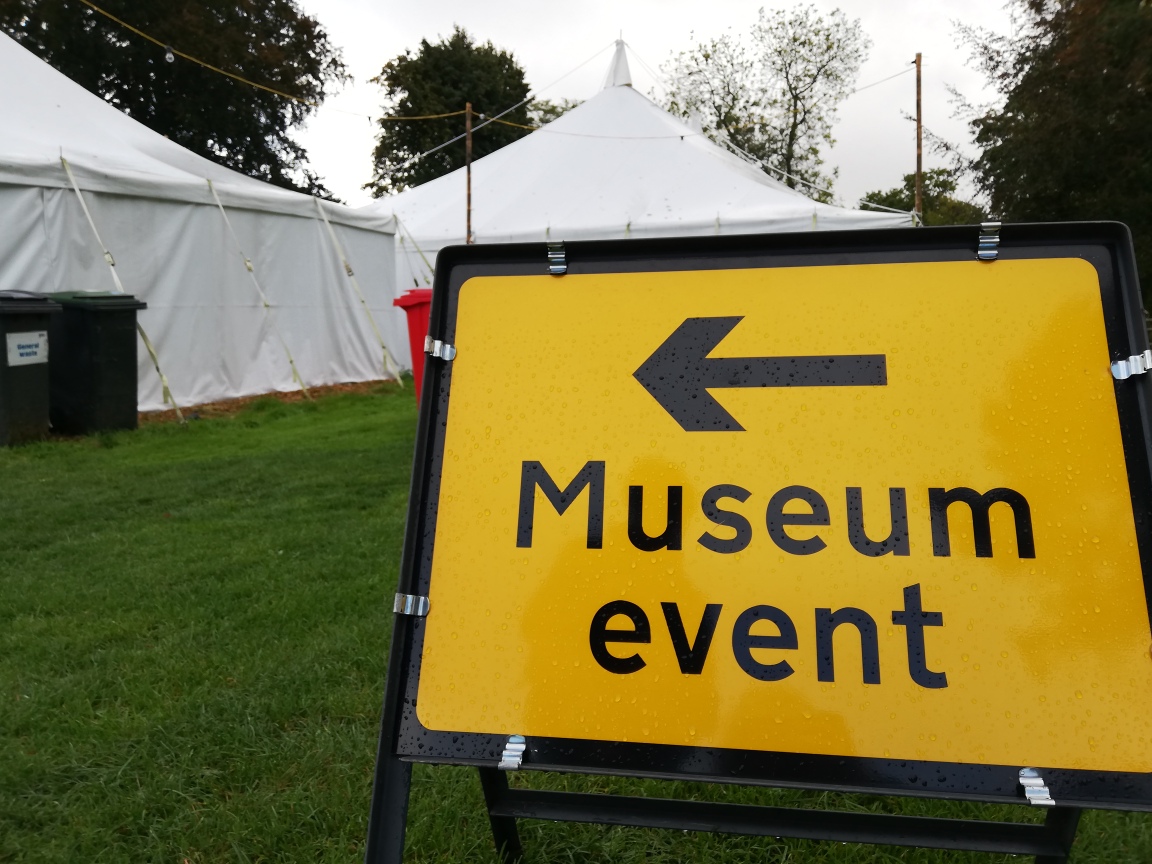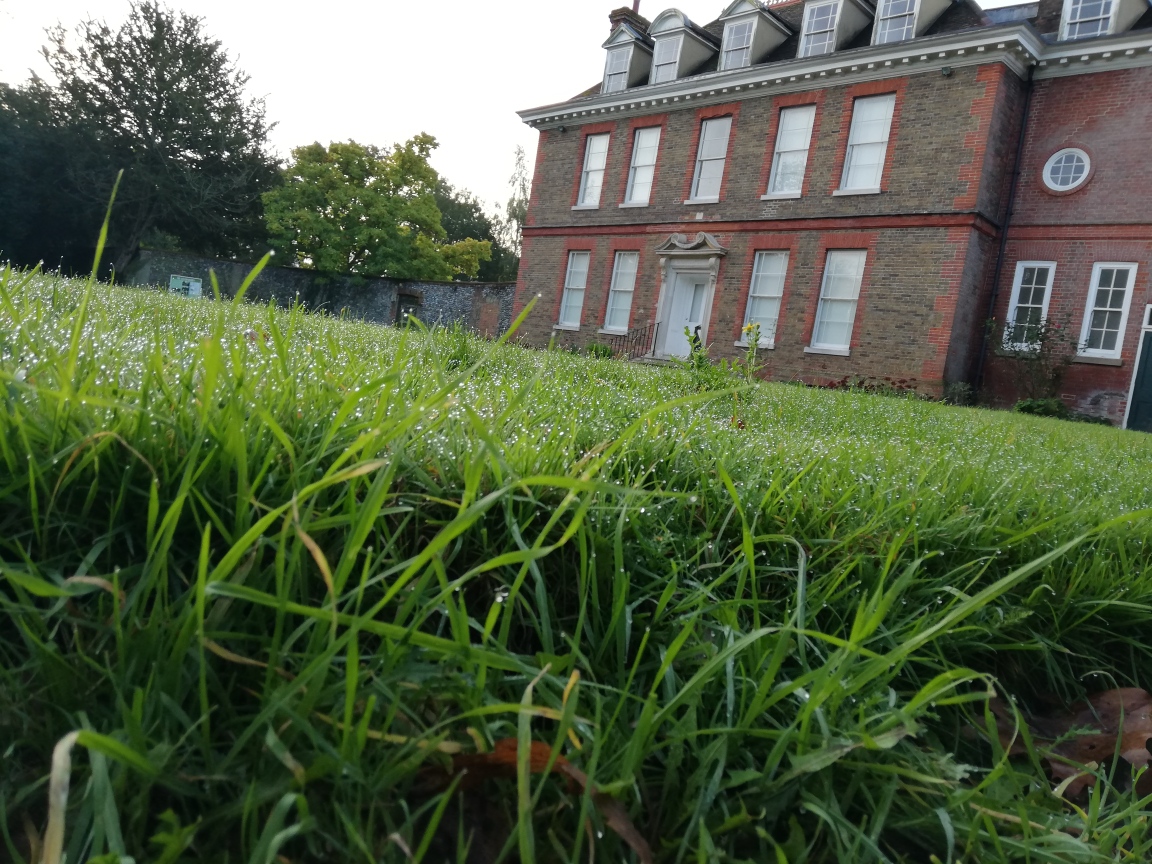 The final events of 2019 that we were involved with this year were based at the Museum of East Anglian Life. Invited to programme the museum's 2nd Cider and Song event, EATMT produced over 14 hours of music, involving over 40 musicians and over 20 volunteers. You can see the Trust's photographs and report of the weekend here.
Pressing the Buttons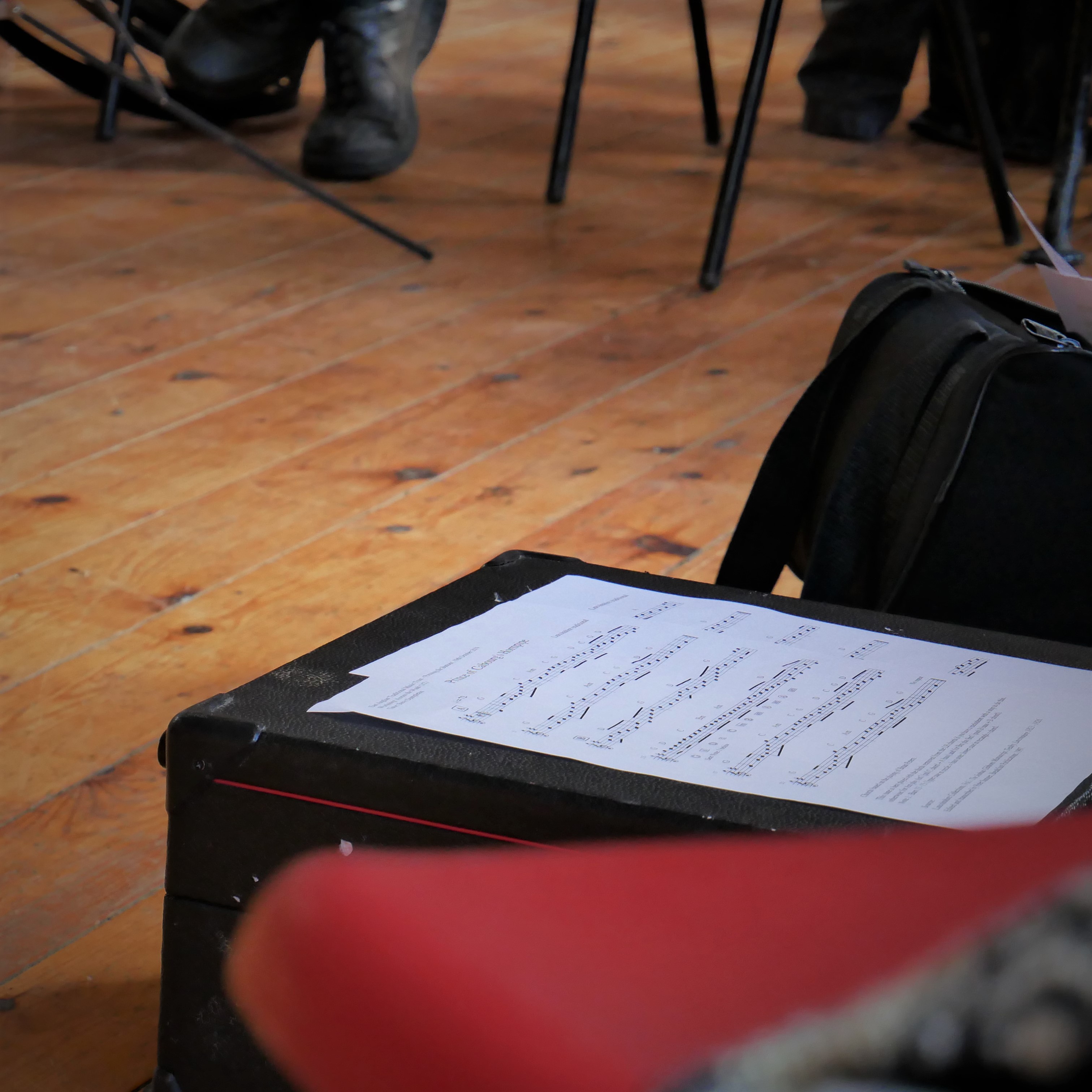 EATMT took the opportunity to trial a new set of workshops called Pressing the Buttons alongside Cider and Song on the Saturday. Under the direction of Steve Dumpleton and with support of Friend and volunteer Shirley Harry, the Trust ran 4 workshops with Concertina tutors Sally Barrett and Alan Day and Melodeon tutors Steve Dumpleton and Otis Luxton. You can read about the day here. Feedback from the event has been immensely encouraging from tutors and participants and so we are pulling together suggestions and ideas with the view to setting up a bigger choice of workshops including more instruments and creating a specifically designed workshop event to take place in the Spring of 2021.

NEWS
TV Filming – Antiques Road Trip
The Celebrity Antiques Road Trip filming which took place in early July with John Cooper Clarke and highlighted dulcimers and jig dolls filmed in the Suffolk village of Bedfield at the Crown as featured in our Summer newsletter earlier this year is being aired on Tuesday 19th November at 7pm on BBC 2.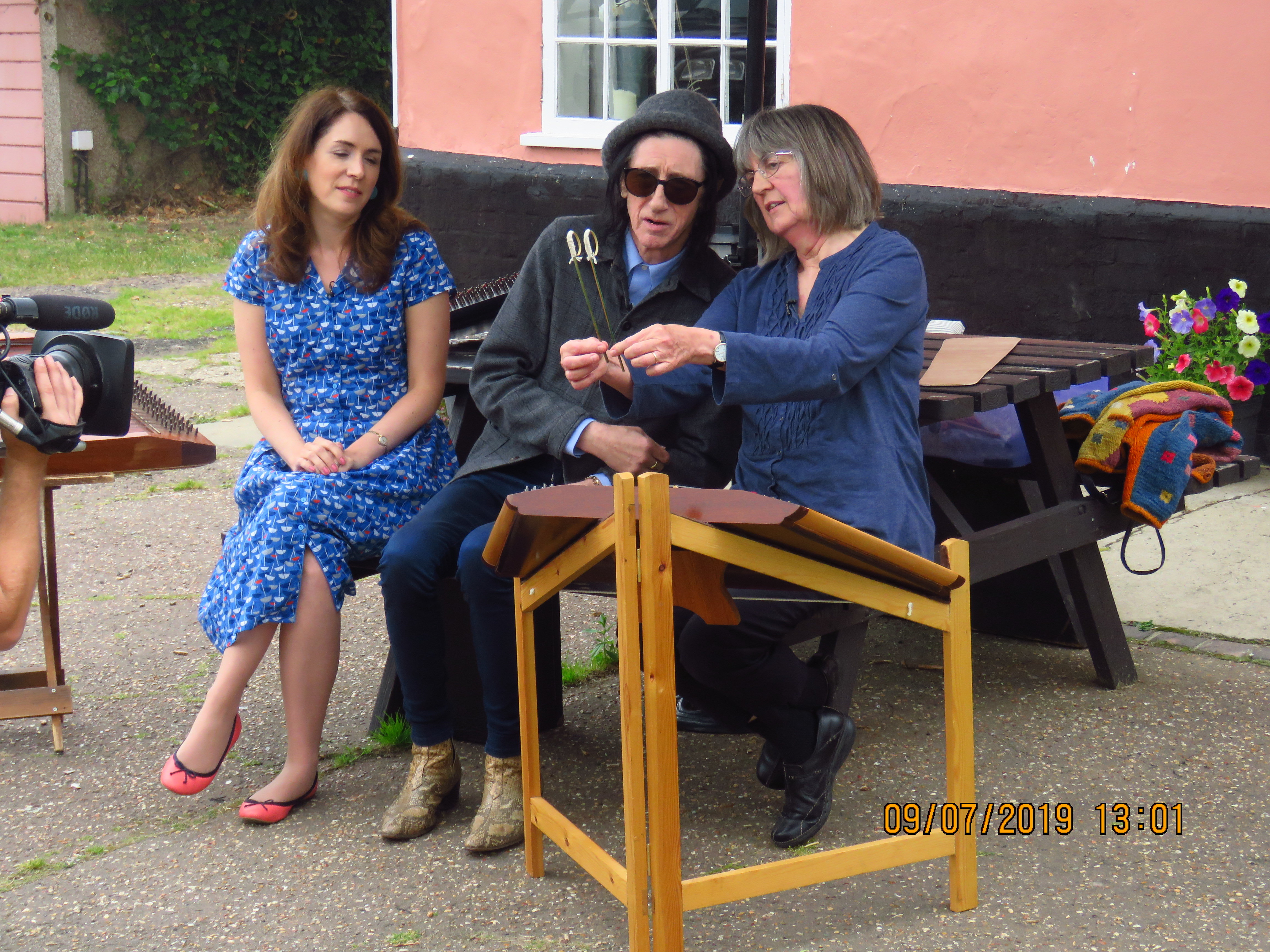 EATMT was contacted in August for the second time this year by the television company STV which produces Celebrity Antiques Road Trip and Antiques Road Trip. This time, for Antiques Road Trip with a spotlight on Stepdancing. See here for a report on this afternoon of dancing in Laxfield, Suffolk.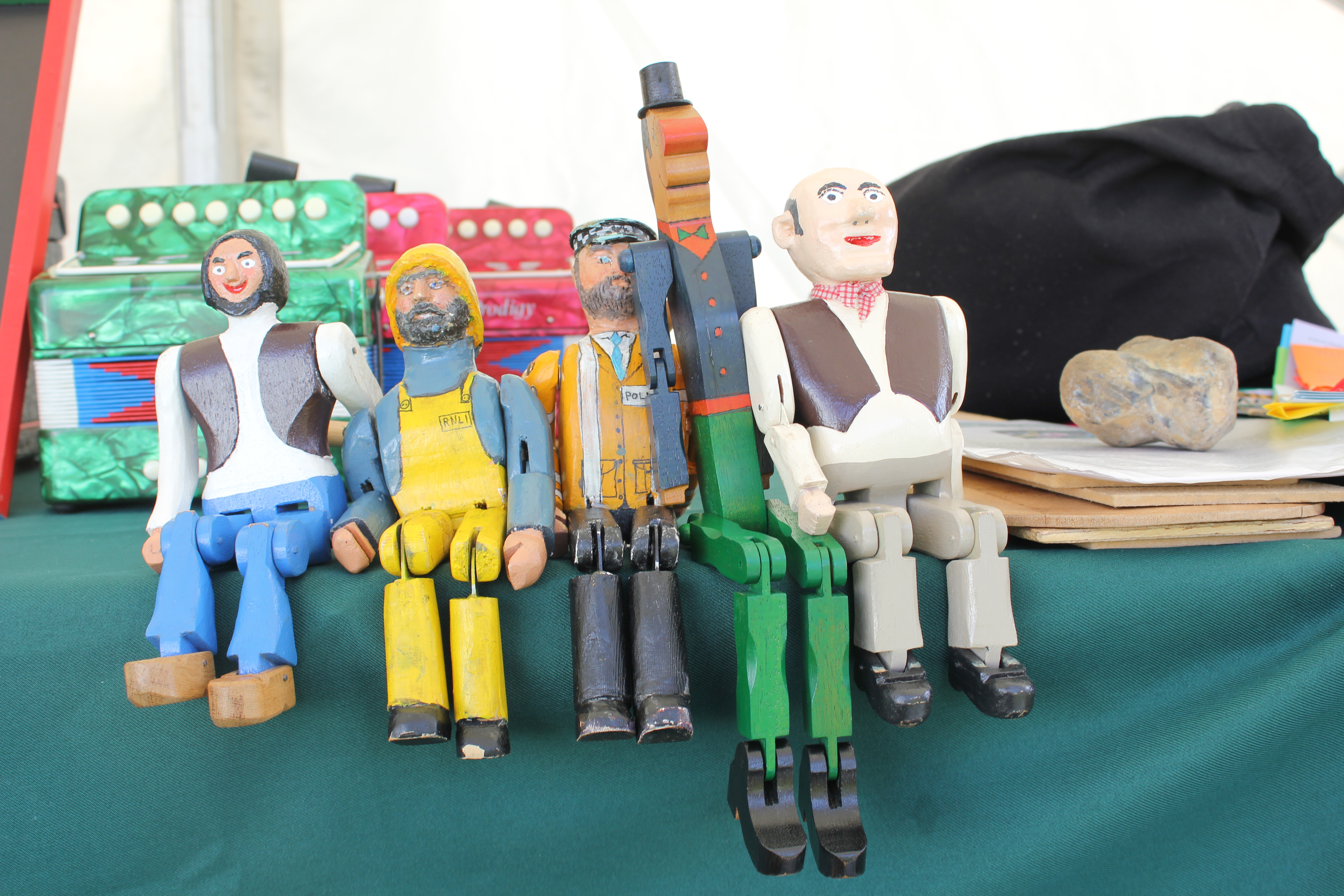 Jig Dolls
The Jig Dolls have had a busy summer – there was huge interest with them at FolkEast and they were in much demand in September.  Val Leggett, Friend, volunteer and member of Vintage Squeeze took a few jig dolls to Norwich fora heritage event in Waterloo Park. Fellow friend and melodeon player Linda Watterson made a film of their outing which Linda has kindly given permission for the Trust to use. Val also features on the short film made at Sheringham Museum for the Traditional Music event at the end of August.
Along with a number of C row melodeons and a dulcimer, the rest of the jig dolls spent several weeks out and about with folk musician and freelance community music practitioner Tessa Wingate who is working in Norfolk with dementia sufferers and has used the instruments and jig dolls for her weekly sessions. Tessa writes For the past two months, I've been working with Creative Arts East facilitating folk music programming for six of their eight "Our Day Out" groups in Norfolk. "Our Day Out" are inclusive, dementia friendly, groups for older people, that aim to engage participants in a programme of fun and stimulating music and dance activities delivered by professional arts practitioners.

For this current series of sessions I wanted to hone the experience for the participants and focus on folk music. As two of the groups are quite large, I've been co-facilitating them with two outstanding musicians – Rosie Toll with the Thetford group and Chris Ellis with the North Walsham group.

We have been exploring different instruments, including bodhrans, hammered dulcimers, melodeons and jig dolls (the latter three all kindly loaned from The East Anglian Traditional Music Trust). In addition to this each group has a composed and recorded a folk song about a local myth, legend or tradition. All the songs will be compiled onto a CD album for the participants to have as a memento of the experience. Song topics include: Boudicca, Babes In The Woods, Saint Withburgh, The Sheringham Mermaid, The Green Children of Woolpit, and a sea shanty about fishing from Wells Harbour.

There have been some wonderful moments so far. I love seeing the joy on people's faces when they realise that they are making music and it sounds amazing. Some of the best moments have been with the jig dolls, they seem to bring out a playful side to everyone. One eighty-something year old participant shared that when she was a child living in Lincolnshire her father made jig dolls for various people in their community.

Creative Arts East recently secured extended funding from Spirit of 2012 to continue the programme for another three years. Sessions are free to attend and take place in: Dereham, Attleborough, Thetford, Watton, North Walsham, Wells-Next-The-Sea, Hunstanton and Downham Market. If you or someone you know is interested in joining one of the groups either as a participant or volunteer, please contact Sydney Burges on 01953 713395 or sydney@creativeartseast.co.uk .

It's a real privilege to facilitate "Our Day Out" sessions. I am so grateful for The East Anglian Traditional Music Trust's enthusiastic support; the addition of their instruments and especially the loan of their jig dolls has been an invaluable addition to the groups.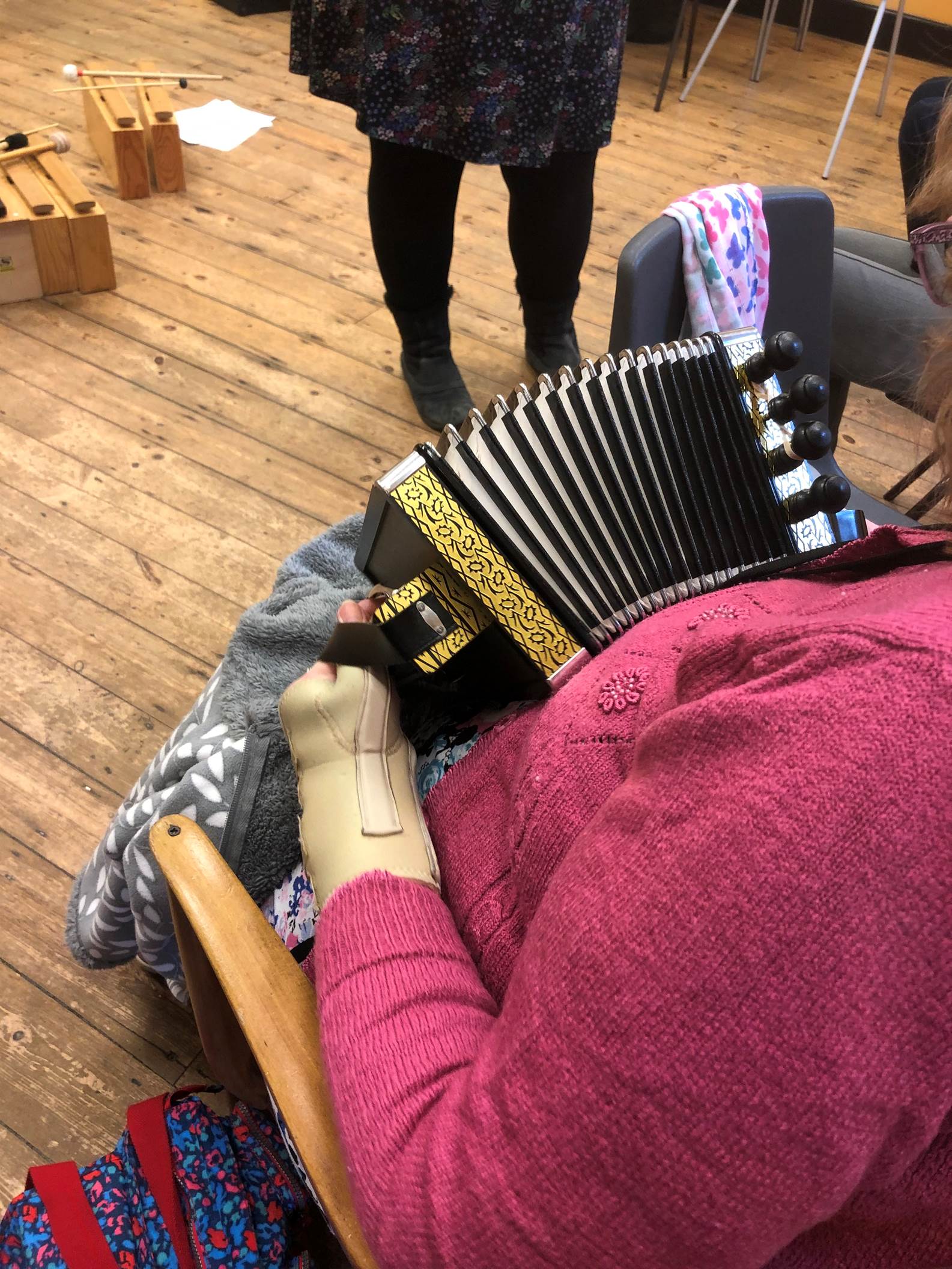 At Stowupland Secondary School near Stowmarket, Jig Dolls are being made in readiness for a summer project day based around the Gun cotton explosion in 1871. The school is also keen to be involved in some of the school visits that we are planning in 2020 promoting Stepdancing and East Anglian Traditional Music.
The Brightest of Entertainers
The edited and updated book on Jig Dolls which the Trust published last August and was written by Pat Pickles and Katie Howson was shortlisted in September for the Katharine Briggs Book Award. Run by the Folklore Society, Katie Howson along with Trustee Eammon Andrews headed to the Warburg Institute in London at the end of October for the awards ceremony. Just a few days before the ceremony, we learned of the sad news that Pat has passed away. For more information, please read here.

Dulcimer Find!
Following communication with the Nonsuch Dulcimer Club regarding Richard Blake's talk at Sheringham Museum in July, we inadvertently found an old East Anglian Dulcimer for sale. After making contact with the owner, we picked it up en route from our second event in Sheringham at the end of August. It has a fantastic story behind it and you can read its previous owner's story here where you will also find an exclusive recording of Billy Bennington playing it before handing it over to Wendy when she was a young music student. Local dulcimer player, George Monger has cast his eye over it, given it a good play and it made its first Trust appearance in the Dining Room at Cider and Song. We are so grateful to Wendy for giving us so detailed a history and for giving us a copy of her recording of Billy Bennington's playing and we're delighted to be able to share this piece of wonderful history.
English Folk Expo
English Folk Expo weekend in Manchester This event clashed with Cider and Song but we were pleased to have stepdancer Fiona Davies attend this weekend event on our behalf. Fiona spent the whole weekend working hard to promote the Trust and over the coming months we hope to be able to make contact with the numerous people keen to work with us in the future.
Stepdancing developments In November, the Trust will be attending the Stepping On Conference at Cecil Sharp House run by EFDSS and in partnership with the Instep Research Team. Trustee Lindsay Want and dancers Fiona Davies and Lou Beal will all be attending on behalf of EATMT. Fresh ideas from this conference will help to build towards school and community project work that we are working on for 2020 and beyond. Young bursary stepdancer Lou will be writing a report of their trip which you'll see added to the website in the winter months and in the next newsletter.
Bursary musicians
We are in the process of updating news from our busy bursary musicians over the quieter months so do drop by and see how work on the website on this page and others progresses.
We launch the second year of the Ruddock Bursary scheme in the early spring of 2020. Once again, one of these Bursaries will be offered as part payment towards a place on Cambridgeshire's Summer School Burwell Bash. We are in the process of fixing a date in March for a celebratory concert featuring our young 2019 musicians. As soon as we secure a date, we will update you.
Stepdance Day will take place at Strumpshaw Tree Fair on Sunday 19th July. For the second year this event is being funded with thanks to the Instep Research Team. We will be looking to move it to another county in 2021 but if you missed it last year, the Tree Fair is well worth a visit and entrance fees are extremely reasonable.

We have booked our pitch for FolkEast 202021/22/23 August and hope to get more involved over the weekend. Watch this space over the next year for more updates.
New Event – September Song
September Song in Stowmarket – 19th September 2020 We are delighted to announce a day of Song – with daytime workshops, a singaround lunchtime session and an evening concert which will take part in the centre of the town's old Corn Hall – what is now the John Peel Centre for Arts. Details to follow in the New Year.
Requests for a Maintenance Day on melodeons and concertinas have proved popular. Martyn White and Mike Acott are keen to join forces with EATMT, so if this is something you are looking for, please register your interest with us (info@eatmt.org.uk).
Our Monthly daytime classes with Mel Biggs in Newmarket had to be stopped after the first three classes due to low uptake but it did attract people from across East Anglia. Those that got involved with the classes enthused about the learning process that Mel took them through and they are keen for us to re work the model for 2020 so that it attracts more people. Feedback as ever, provided it's polite, is welcome!
We are also in the process of writing proposals for Stepdance workshops across East Anglia for Schools' work and we are also working on a Molly Dancing project which we hope to bring you more information on in the early spring of 2020.
Events 2021
Plans are already developing for the return of two popular events in 2021 – the year we celebrate our 21st anniversary.
East Anglian Traditional Music Trust's Traditional Music Day 2021
"We want to see Traditional Music Day back" is a regular cry from our Friends and followers. We've spent the summer months looking at suitable venues and we are delighted to announce plans to reintroduce this in 2021 – Saturday 4th September 2021 – in Stowmarket.
It seems a long way off, but with an enforced venue change, it needs delicate planning and working with our local friends and organisations. We are delighted to announce that Alan Bearman has agreed to artistically co-ordinate this event which will see a return of this annual event in the year the Trust turns 21.
Pressing the Buttons – Workshops for 2021
Following the success of the four Pressing the Buttons workshops as mentioned above, we will also be working towards running workshops in March 2021 and we're delighted to have Steve Dumpleton on board as artistic co ordinator for this event. We've had some excellent feedback from participants and tutors of the recent workshops. If you have any specific ideas you'd like us to think about, then please do let us know. We promise to read every comment (though can't guarantee to take every suggestion into account but we'd still like to hear your views over the coming months). A Come Join the Band workshop (on any instrument) is being investigated for the many of you who have requested us to look into this.
Friends membership
Your support now more than ever is much valued. Please consider signing up as a Friend (£15 per year). Over the quieter months, we will be chasing lapsed members in the hope that you like the direction the Trust has been moving in over the last year and will consider re joining. If you are a tax payer, the Gift Aid we are able to claim back is an additional boost to the Trust's income.
Other ways to help
We have recently signed up for Recycle4charity. If you would like some envelopes for you to send your used inkjet cartridges away in order to raise extra funds for EATMT, please get in touch and we'll send some in the post to you. We can take your laser cartridges too – if you're interested, do get in touch.
A final note must be included regarding the numerous amount of volunteers, musicians and organisations who have supported the Trust over this summer – at events in the spotlight and in the office behind the scenes. It has proved invaluable and without that support, EATMT would not be in such a strong position to move forwards. You all know who you are – THANK YOU!